Natural Wood Veneer
Natural wood veneer is obtained from the trunk of a tree, by slicing cut large wooden blocks, we get the raw natural wood veneers.
Every bundle natural wood veneers are unique, there are no same trees, so you can not get 100% same natural veneers. Even the same wood species, they also have no identical patterns.
Generally, European and American natural wood veneer manufacturers are good at producing thick natural veneers. We can supply not only a thick wood veneer but also a paper thin veneer, 0.5mm standard veneer, rough cut veneer, engineered flooring top layer veneer, exotic wood veneer.
The common natural veneer wood species include Oak veneer, Walnut veneer, Ash veneer, Teak veneer, Maple veneer, Cherry veneer, Ebony veneer, Rosewood veneer, Sapele veneer, Anigre veneer, Eucalyptus veneer, Bamboo veneer, etc.
10 Types of Natural Wood Veneer
0.5mm Common Veneer Sheets
0.5 mm thickness natural veneer is well known as the common standard veneer.
It is raw wood veneer, sliced veneer sheets from woodblocks.
The common wood species include White Oak, Red Oak, Ash, Burma Teak, Maple, Cherry, Ebony, Rosewood, Sapele, Anigre, Eucalyptus, Bamboo, Koto, etc.
But American Red Oak, White Oak, Walnut, Maple, Teak are 5 most popular common natural wood veneers.
In the wood door, furniture and hotel decoration, manufacturers and contractors like to use those common veneers. But they have to put the standard wood veneers on the substrate (MDF, Plywood, Particleboard).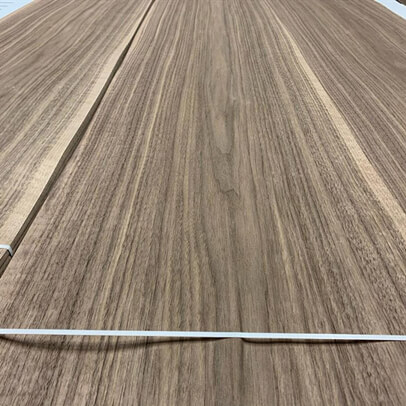 Paper Thin Veneer
From 0.1mm thickness to 0.25mm thickness wood veneer is our paper-thin wood veneer.
Most of the paper-thin natural veneers should put kraft paper or fleece back, then to make wood door frames, wood skirting, wood profile.
But for the professional veneered plywood & MDF manufacturers, who can bond plywood, MDF with wet thin veneer sheets directly.
Why do so many people like to use paper thin wood veneers?  Because they have cheaper prices than common thick veneers, and fleece backed veneer is flexible for bending. But we believe that can increase the utilization rate of wood.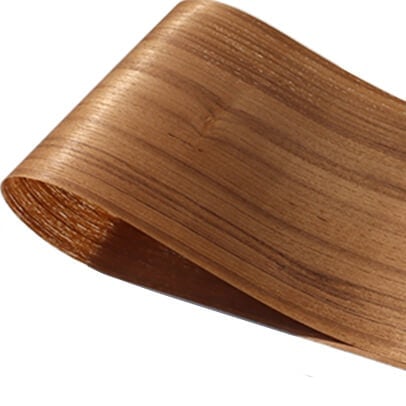 Thick Veneer
The thick veneer is thicker than 0.6 mm, from 0.6 mm to 6.0 mm thickness, the most popular are 1.0 mm, 1.2 mm, 2.0 mm, 3.0mm.
Thin wood veneer is perfect for almost all projects. But some designers and custom furniture makers still need a special thicker veneer.
Like model and carving, people like to use a thicker wood veneer. In furniture, doors, cabinets, wall panels, toys, and fixtures, some projects also need special thick natural wood veneers.
Extra thick veneers help prevent sanding through.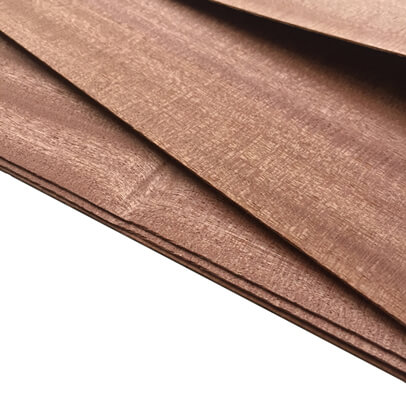 Engineered Wood Flooring Top Layer
The engineered wood flooring top layer is very important for whole designs.
In the production of engineered wood flooring. Manufacturers like to choose the different thickness of top layer veneers for special requests.
Like 0.6 mm, 1.2 mm, 2.0 mm, 3.0 mm, 4.0 mm, 6.0 mm, those are the most common engineered flooring top layers thickness.
For 0.6 mm, 1.2 mm, and 2.0 mm thickness flooring face veneers, they are sliced.
For 2.0 mm, 3.0 mm, 4.0 mm, and 6.0 mm thickness flooring face veneers, they are saw cut.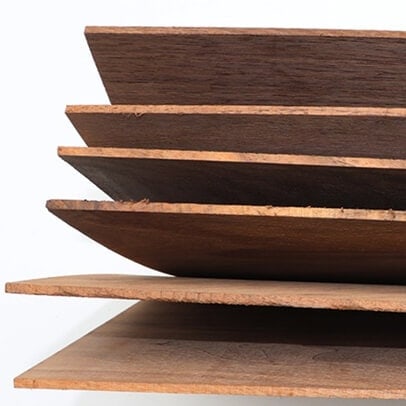 Dyed Veneer
If you mind natural wood veneers` color variation, then dyed wood veneer is your best choice.
The dyed veneer is a natural veneer, but has a good advantage is color consistency. That is why dyed veneer is so popular in interzum fair.
The dyed natural veneer is colored throughout the entire thickness. It keeps the beauty of natural wood grains, free of defects, and very different from the traditional stained effect.
The most popular dyed wood species include grey dyed veneer, white dyed veneer, dyed birds eye maple veneer, dyed pearwood veneer, black dyed veneer, dyed ash veneer, dyed koto veneer, dyed sycamore veneer, and dyed burl veneer.
But the big problem for dyed veneers is discoloration, veneer color fading, color shifting, or yellowing.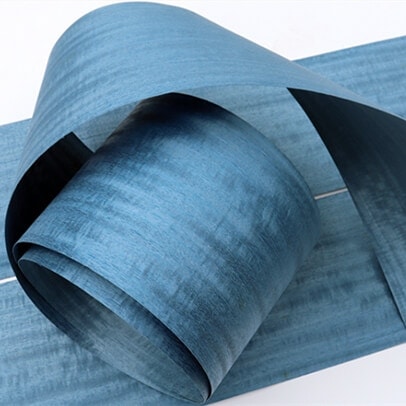 Smoked Veneer
Smoked veneer, also known as fumed veneer. It is an ammonia vapours treated wood veneer.
Smoked veneers have a dark brown color or dark color.
White Oak smoked veneer, European Oak smoked veneer, Eucalyptus smoked veneer and Larch smoked veneer are the 4 most sales smoked veneers.
If you want warmth or rustic design for interior furniture and wall panels, smoked veneer sheets are your best choice.
And you also can buy smoked light brown color, figure eucalyptus smoked veneer from China.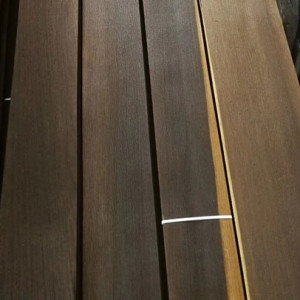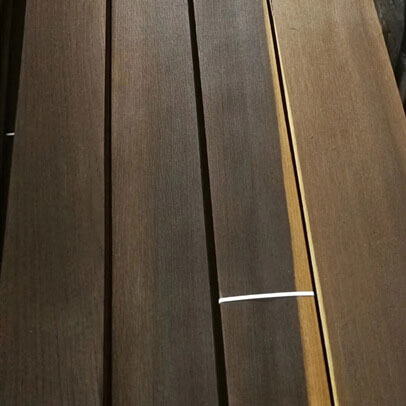 Saw cut / Rough cut Veneer
Slicing with a serrated knife or blade, the sliced natural wood veneers surface will have a rustic, rough sawn wood appearance.
The minimum thickness of the saw cut / rough cut wood veneer is about 0.6 mm.
You can get the supplies of saw cut / rough cut flat cut oak veneer, rift oak veneer, walnut veneer, which are the most popular saw cut wood species.
But you also can buy the special saw cut smoked eucalyptus veneers.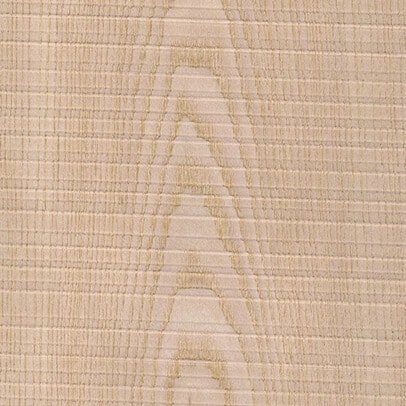 Matching Veneer
There are many different veneer matching methods to match and joint leaves of real wood veneer.
The matching techniques are based on the desired finish and appearance. The way you match veneer sheets can create a unique pattern and visual effects.
We provide common and special sequence wood veneer spliced matching services from China.
The most common veneer matching options are book matching, slip matching, center matching, random matching, block planking.
Some special veneer leaf matchings are available, like book & butt matching, herringbone matching, diamond matching, reverse diamond matching, reverse slip matching, veneer end matching, stack matching, V matching, parquet matching, sunburst matching, starburst matching and so on.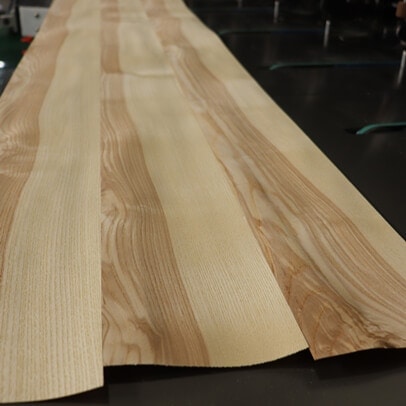 Bamboo Veneer
Bamboo veneer has no pattern differences compare to wood veneer.
Bamboo veneers are available in 6 main types in color and grains. Natural vertical, Natural horizontal, Carbonized vertical, Carbonized horizontal, Zebra vertical, Zebra horizontal.
Natural color bamboo veneers have a pale yellow color. And carbonized bamboo veneers have the caramel brown or darker coffee brown colors.
To help prevent tearing, all bamboo veneers back with fleece(nonwoven fabric) or kraft paper support.
The standard length of bamboo veneers is  2250 mm, 2500 mm, 2850 mm, width 430 mm, 860 mm, 1250 mm. The thickness we can produce 0.2 mm to 0.6 mm.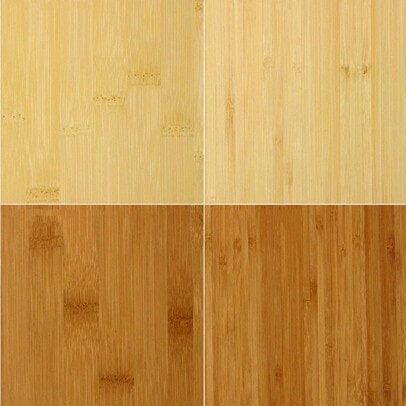 Exotic & Rare Veneer
For some special projects, people like to use exotic wood veneers or rare wood veneers.
We make a summary of specialty and exotic veneers as below:
Burl Veneers:  Mappa burl/ Poplar burl, Golden Madrona burl, Walnut burl, Gold Nanmu burl, Camphor burl, Fir burl, Ash burl, etc
Crotch Veneers: Mahogany crotch, Walnut crotch, Cherry crotch,  Anigre crotch, Makore crotch, etc
Figured Veneers: Figured Anigre, Figured Sycamore, Figured Makore, Figured Maple, Figured Sapele, Figured Eucalyptus, Figured Sassafras, Figured Cherry, Figured Walnut, etc
Pommele Veneers: Sapelli pommele, Makore pommele, Maple pommele, Bubinga pommele, Eucalyptus pommele, etc
Others specialty and exotic veneers, like Tamo Ash, Black and White Ebony, Ziricote, Bird`s eye Maple,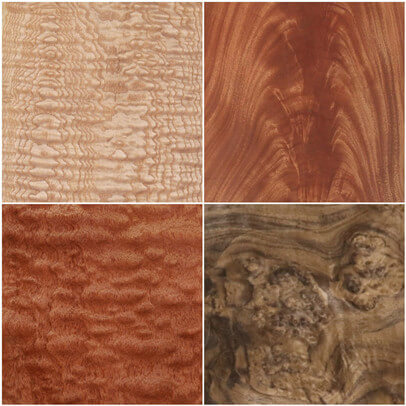 Nowadays, natural wood veneer designs still is a big part of the international veneer markets. So designers want to have more options for special projects.
Many stainless steel sheets and aluminum sheets print the look of natural wood grains. Even some manufacturers laminated aluminum sheets with wood veneer sheets together.
But there are still many problems happen when people choose or apply the natural wood veneer. For example, natural veneer quality grade, it is the most important part when you buy natural veneers in a big quantity.
All the natural wood veneers need to put on plywood, MDF, particleboard. To produce wood door, cabinet, furniture, or wallcovering. The stability and smooth of the substrate are very important for avoiding veneering problems.
Why Choose Our Natural Wood Veneer
Not only standard0.42mm, 0.5mm, 0.55mm thick natural veneers you can buy, but also paper thin veneers you can find here.

One-stop shopping wood veneer supplier, provide good quality with competitive prices. You can find more than 15 types of natural wood veneer, like raw natural veneer, dyed veneer, smoked veneer, rough cut veneer, end grain veneer, matching natural veneer, backed natural veneers, etc.

Over 120 wood door and furniture factories use our wood veneer for high-end veneer door, furniture, cabinets and wall back ground.

Competitive rate shipping of veneers by sea, by air, by FedEx/DHL/TNT.

Over 20 years of experience in veneers wood business in China.

More than 1 million sqm stocks available.