Veneer Edge Banding
Veneer edge banding is the wood veneer rolls for edge sealing of plywood, wood board, MDF, or particleboard.
In general, there are two main types of wood veneer edgebanding. Natural real wood edge banding and reconstituted wood edge banding.
Natural veneer edgebanding is real wood veneer edging, which is made of natural real wood veneers. The common supply is veneer maple edge banding, birch edge banding,  veneer walnut edge banding, oak edge banding, Okoume veneer edge banding, and mahogany edge banding.
When it comes to reconstituted veneer edge banding, the great demand is white edge banding with UV prefinished. Then the common is recon oak veneer edging, recon grey oak edge banding, and recon black veneer edging.
Besides, you can buy some rare unusual edge banding veneer rolls from China. For example, UV prefinished edge banding, cross grain edge banding, end grain edge banding, rough sawn cut grain edge banding, and laminated burl veneer edgebanding.
4 Main Types of Veneer Edge Banding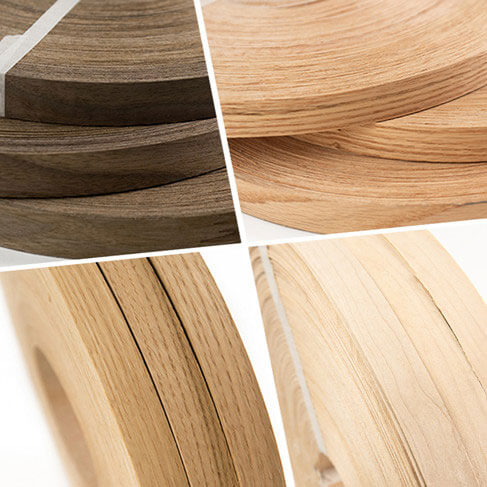 Natural Real Veneer Edgebanding
When you want to buy wood veneer edge banding, the natural real veneer rolls will be your first option.
Because the natural wood veneer keeps the wood natural look and grains. It can match your natural wood boards equally.
The common wood species include American red oak, white oak, walnut, cherry, and maple veneer edgebanding. And other wood species include teak edge banding, Sapele, Okoume, Mahogany veneer edging, and bamboo veneer edgebanding.
At the same time, you can also choose dyed veneer edgebanding to match different colors of wood panels.
As you may know, with laminated multilayers of raw natural veneers, we can get the edge banding thickness from 0.8mm to 2mm.
Recon Veneer Edge Banding
Recon veneer edgebanding is made from reconstituted veneer sheets.
Why should you choose to use reconstituted veneer edgebanding?
Compared with natural wood veneers, the reconstituted veneer has the consistency of colors and grains sheet to sheet.
Moreover, each reconstituted veneer strips can be at least 2.5 meters long.
But most importantly, the rare wood grains have the most competitive prices.
For instance, ebony wood edge banding, teak edge banding, cat`s eye veneer edging, bird`s eye maple edge banding, rosewood edge banding rolls, and platinum grey oak veneer edge banding.
As a type of recomposed wood veneer edging, which gives you more options of colors and grains.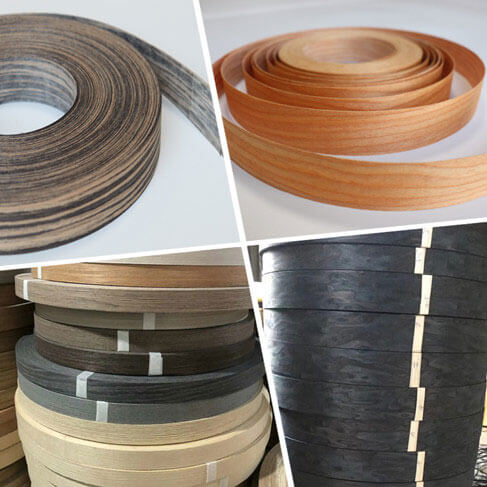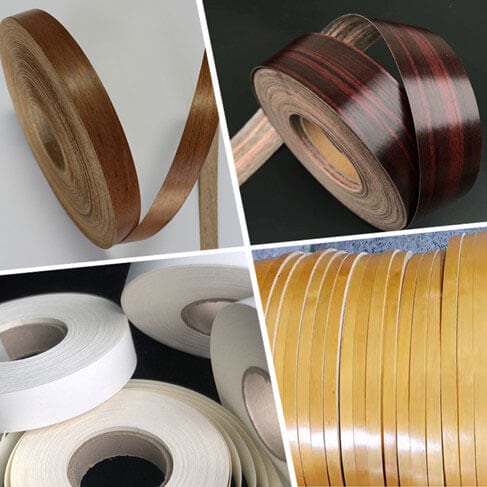 UV Prefinished Edge Banding
UV prefinished edge banding is finger joint wood veneer coils with a clear or stain UV lacquer coating finish.
This way, UV lacquer coating gives excellent surface characteristics and durability. And UV prefinished edge banding veneer rolls are resistant to heat and scratching.
As above mentioned, both natural veneer edgebanding and engineered veneer edgebanding are available for a UV lacquer finish.
You can choose a clear UV lacquer coating to keep the real wood color and grain. Besides, you can also choose to make custom stain coating to match prefinished hardwood panels.
The largest width of UV pre-finished edgebanding we can make 300mm. The best selling is white prime UV prefinished edge banding veneer rolls.
Rare Unusual Veneer Edgebanding
In some special woodworking projects, people like to use rare and unusual types of edge banding.
For example, burl wood edge banding, which is a real burl wood veneer laminated with hardwood veneers. You can choose Mappa burl, Walnut burl, Golden burl, Gold Phoebe Nanmu burl, Camphor burl, Fir burl, etc.
Cross grain edge banding is the real wood veneer edgebanding with the perpendicular grains. It gives the veneered panels a solid wood appearance. You can choose any wood species to make cross grain veneer rolls.
End grain edge banding is cross cut ( butt cut) round pieces of veneers laminated with hardwood veneer, then joint and cut to end grain veneer rolls.
Rough sawn cut veneer edgebanding is made of rough cut wood veneers, which can be both natural wood veneer or reconstituted veneer.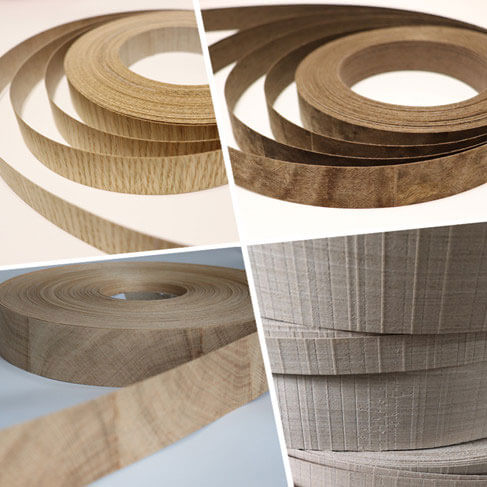 20 Related Wood Veneer Edge Banding Products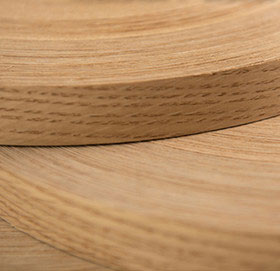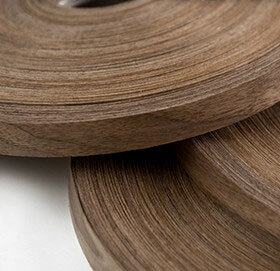 Black Walnut Edge Banding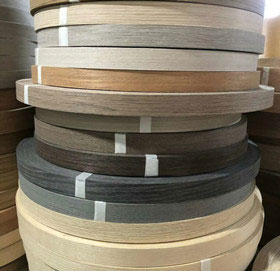 Reconstituted Veneer Edging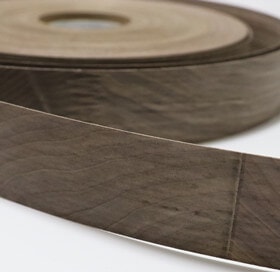 Walnut End Grain Edgebanding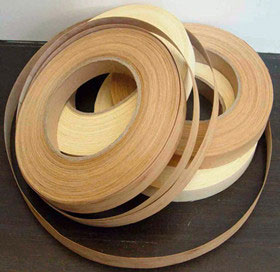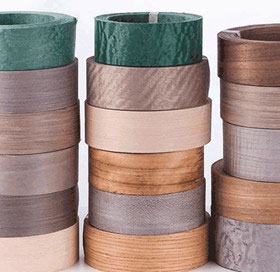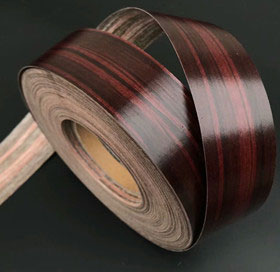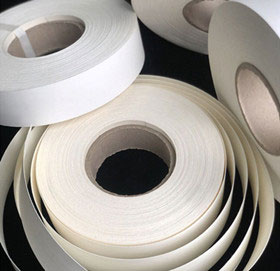 White Prefinished Edgebanding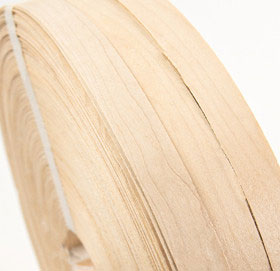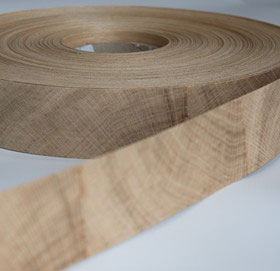 Oak End Grain Edgebanding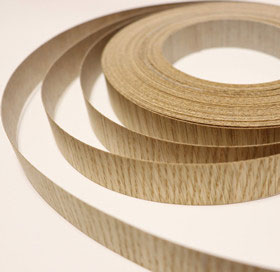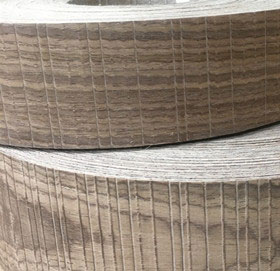 Rough Sawn Cut Edgebanding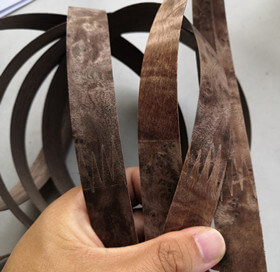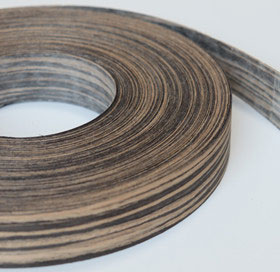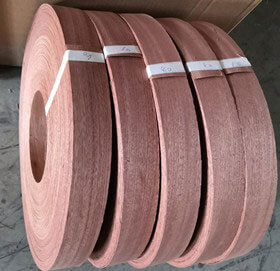 Sapele Veneer Edgebanding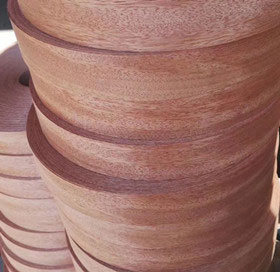 Why Choose Our Wood Veneer Edging

Custom cutting & splicing

Hundreds of colors in stock






Frequently Asked Questions (FAQs)
Q1.  What is edge banding veneer used for?
A1.  The edge banding veneers are mainly used for edge sealing of furniture panels, like plywood, MDF, particleboard, and blockboard.
Q2.  How many types of veneers edgebanding?
A2.  There are 4 main types of veneer edgebanding, natural veneer edgebanding, engineered veneer edgebanding, UV prefinished edgebanding, and unusual veneer edgebanding. The most common wood species are maple edge banding, birch edge banding, walnut edge banding, oak edge banding, and white edge banding.
Q3.  How thick/thin should the veneer edgebanding be?
A3.  We supply standard thickness 0.4mm and 0.5mm veneer edgebanding. You also can get 0.2mm or 0.3mm thin veneer edging rolls. We also supply multilayers 1mm, 2mm super thick veneer edgebanding rolls.
Q4.  What is the edge banding veneer roll specification?
A4.  Ideally, the length of the edgebanding veneer rolls can be customized to any size. But the common length is 200 meters per coil.  For the width, we can produce from 18mm to 60mm for the application of edge banding.
Q5.  How to apply veneer edgebanding?
A5.  Usually, if you make DIY woodworking, you can use Iron, Edge trimmer, and sandpaper to apply it. But for mass production, you have to use semi-automatic edge banding machines or a fully automatic edge bander.
Q6.  Can edge banding veneers be painted?
A6.  Sure, our UV prefinished veneer rolls can be painted to any color as your desire. Dyed veneer edgebanding and recomposed wood veneer edgebanding are also good options to think about.
Q7.  Which type of edge banding adhesive is best?
A7.  Usually, most edge banding is applied with two types of hot melt glue, EVA (Ethylene Vinyl Acetate) and PUR (Polyurethane).  EVA glue is easy peeling to high temperatures. PUR glue is better for mass production. PUR glue cannot be re-melted, and bond strong and quickly.
Q8.  What affects the price of veneer edge banding?
A8.  There are 4 main factors that affect the prices. Wood veneer species, veneer quality grade, the minimum length of two finger-joints, and processing technology. But most importantly, the minimum length of two finger-joints (raw veneer sheets minimum length) is the key factor.