Fluted Wall Panels
Fluted wall panels are a type of wall paneling that features a series of vertical grooves or channels for wall covering.
They are typically made from wood, plywood, MDF, plastic, or metal. And wrapped with PVC paper or reconstituted veneers.
The fluted panels are used to add texture and visual interest to a wall or ceiling. They can also be used to create a decorative border or to divide a wall into sections.
They also provide extra acoustic insulation and sound absorption, giving them a practical as well as a decorative purpose.
The fluted panels can be installed vertically, horizontally, or diagonally to create a range of different looks and effects.
Their unique texture and versatility make them a popular choice for a wide range of applications for architects, designers, and homeowners.
Download PDF:  Catalogue of Fluted Wall Panels
7 Main Types of Fluted Wall Panels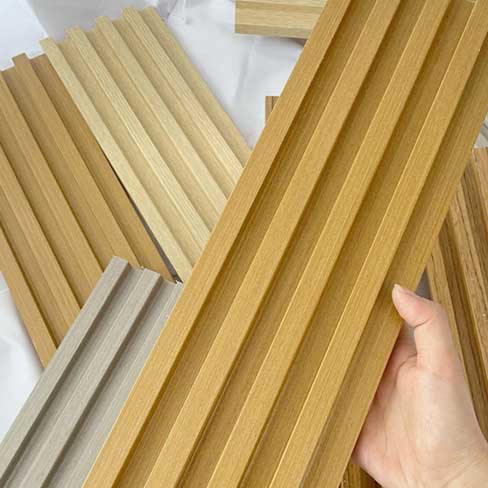 Wood Veneer Wall Panels
Wood veneer fluted wall panels are made by wrapping a layer of thin wood veneer around a core wood material that has been fluted.
Fluting refers to the process of creating grooves on solid pine wood, which can add depth and texture to the surface.
The wood veneer used to wrap the core material can be an engineered veneer, which includes hundreds of colors and grains.
You can choose prefinished, or unfinished wall panels to stain as your designs.
The tongue and groove joint is easy to install and can be customized to fit the dimensions of a particular space.
Overall, wood veneer wrapped fluted wall panels offer a unique and versatile option for interior wall cladding.
PVC Fluted Panels
If you think the above wood veneered shiplap paneling is expensive, then PVC wrapped fluted panel is a better option.
PVC paper, also known as vinyl paper, is strong, durable, and withstands moisture, heat, and chemicals.
They are also low maintenance, as they do not require painting or staining, and can be cleaned easily.
PVC wrapped fluted wall panels are a cost-effective and versatile option for interior wall cladding that provides both aesthetic and functional benefits.
No matter the wood grains, pure colors, or special texture designs, PVC paper can give you varied colors.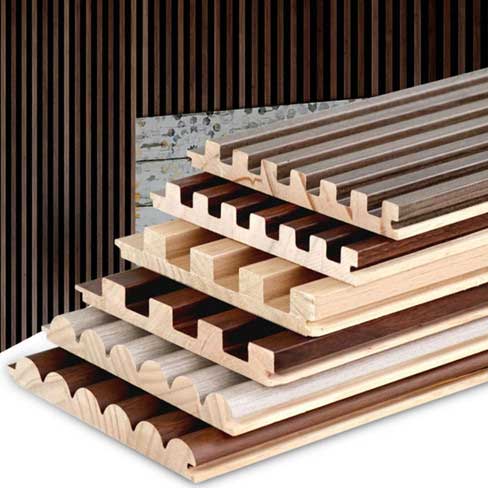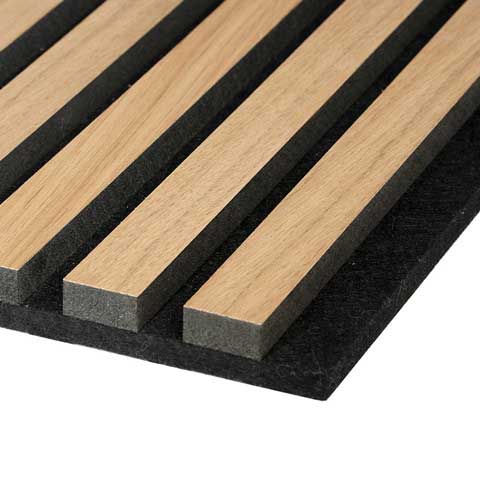 Wood Slat Wall Panel
The wood slat wall panel is a type of vertical wood slat wall panel, also known as Akupanel.
You can choose plywood or PET polyester acoustic panel as a substrate.
As for acoustic wall panels, the slat gaps allow sound waves to pass through and be absorbed by the Polyester fiber board behind the slats.
Wood slat acoustic wall panels are often used in spaces such as recording studios, concert halls, conference rooms, and other areas where speech intelligibility and acoustic clarity are important.
They are available in a variety of sizes, finishes, and wood species, allowing for customization to fit any design aesthetic.
Additionally, some wood slat acoustic panels can also be used as a decorative element, adding visual interest to a space while also improving its acoustic performance.
Milled Panels
Milled panels are machined or milled thick veneer boards for wall decoration.
Milled wall panels are also known as ribbed wood wall panels.
Ribbed wood panels can be designed in different shapes and sizes. The milling process can create the desired texture or design.
You can choose 5mm thick veneer faced plywood or MDF as substrate materials. Then design the carved shape and size.
To save the total costs, you can consider using a reconstituted veneer as the top layer.
When you select milled wood panels for wall decoration. It's important to consider the overall cost and maintenance requirements of the panels.
As a type of most expensive 3D wall panels, the milled wood wall panels need professional installation.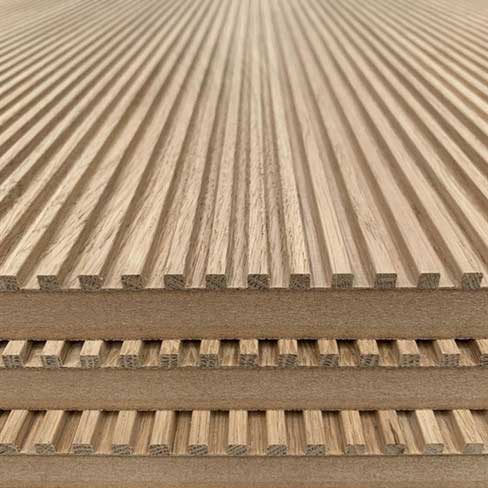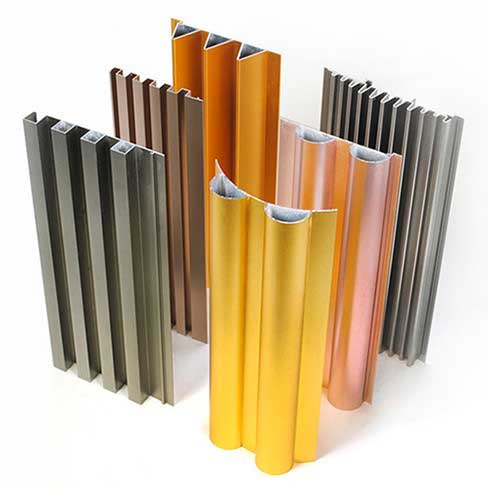 Fluted Metal Wall Panels
Besides fluted wood wall panels, the metal fluted panel is also a good option for wall cladding.
You can choose aluminum extrusion fluted panels or stainless steel fluted panels for interior or exterior wall cladding.
They can be finished in a variety of colors and ribbed textures.
The most important is the fluted metal wall panels can be used for both interior and exterior applications.
They also have many benefits, including their durability, and resistance to fire, moisture, and pests.
Besides, the metal wall panels provide excellent protection and long-term durability.
WPC Wall Panels
WPC wall panels are made of Wood Plastic Composite ( WPC ) material.
WPC is a type of composite material that is made up of wood or bamboo fibers and thermoplastics, such as polyethylene and polypropylene.
WPC wall panels are highly durable and resistant to moisture, termites, and decay.
They do not crack, warp, or splinter, and can withstand harsh weather conditions.
Composite wall cladding is a cost-effective alternative to traditional wood wall materials.
Compared with fluted wood panels, milled 3D wood panels, and Akupanel slat wood wall panels, WPC panel is much cheaper.
But considering plastic and glue, we suggest that you should choose wood wall panels for the interior and home decoration.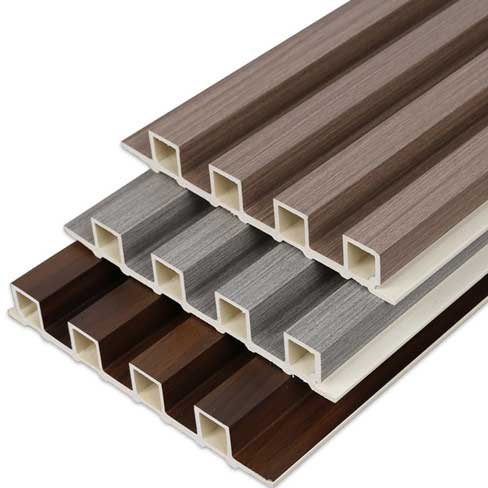 Bamboo Wall Panels
Bamboo wall panels are a type of eco-friendly wall covering that is made from fast-growing MOSO bamboo.
The bamboo paneling can be used for both interior and exterior walls and ceiling decoration, and are available in a variety of sizes and shapes.
You can choose light carbonized or deep carbonized. Even high-density strand woven bamboo with higher strength and durability.
If you are interested in bamboo wall panels in your home or office. It is important to research the different types of panels available and choose a style that best suits your needs and preferences.
You should also consider factors such as the size and shape of the panels, their color and finish, and the installation method.
20 Related Fluted Wall Panels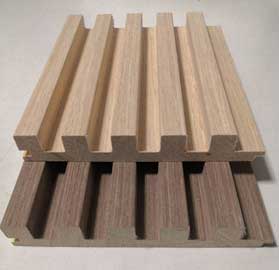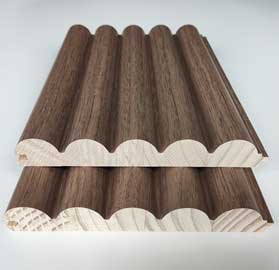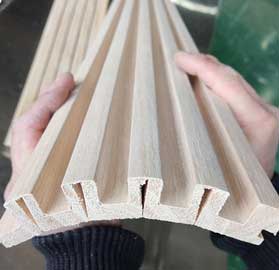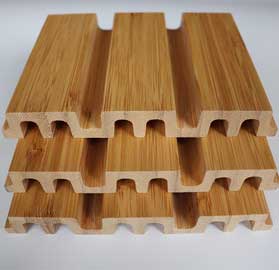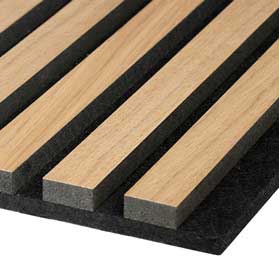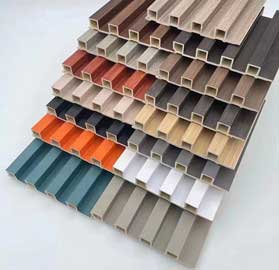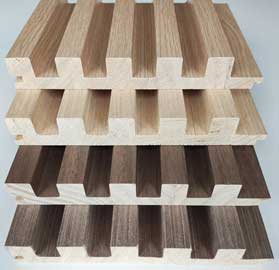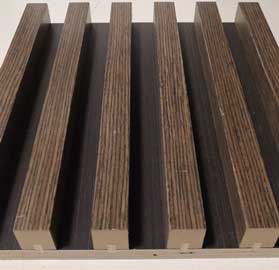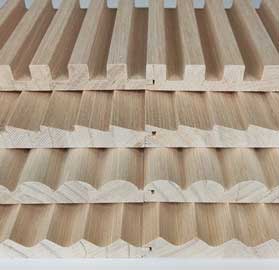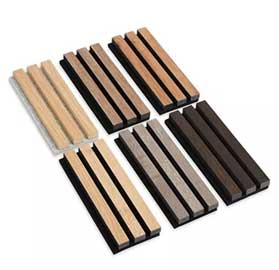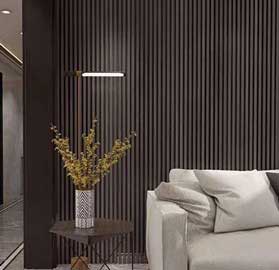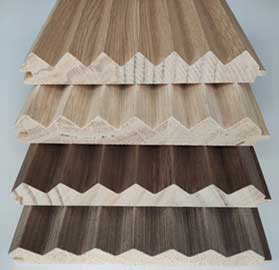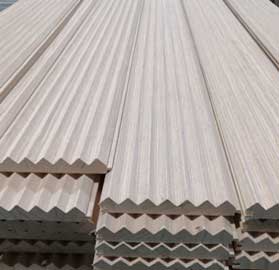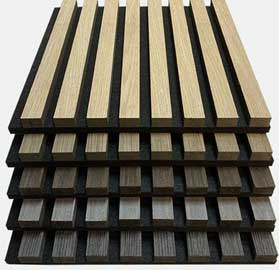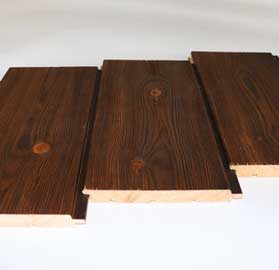 Tongue and Groove Paneling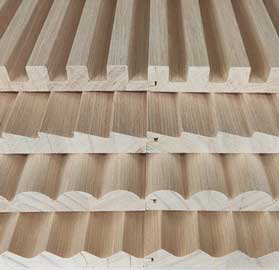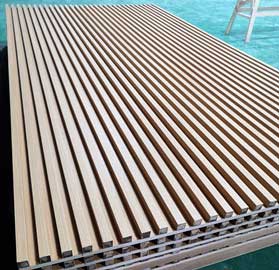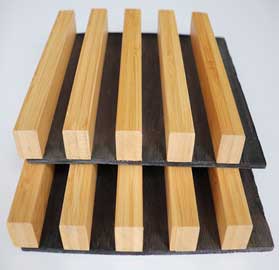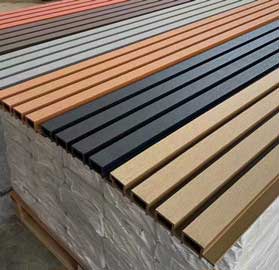 When you buy fluted wall panels from suppliers locally, I think most suggestions are WPC fluted panels.
Because WPC fluted panel is the cheapest choice. And there are many colors to choose from.
If you want solid wood decorative wall panels, then reconstituted veneer wrapped fluted panels or PVC film wrapped fluted panels are the best options for wall cladding panels. They have easy tongue and groove assembling.
And veneered MDF vertical slat soundproof wall panels are best for acoustic panels application.
Besides, you can consider aluminum extrusion fluted panels or stainless steel fluted panels for interior or exterior wall cladding.
However, the milled solid wood panel is the best and most expensive option for wood paneling for walls.
Why Choose Our Fluted Wood Wall Panels
We can offer customization options for fluted wall panel shapes and wrapping veneers or PVC foil.

Over hundreds of reconstituted veneer and PVC paper, which give our clients more options to choose from. No matter the popular walnut and oak colors or fine-line grey colors.

We can provide both flat and flexible fluted wood panels for wall decoration. The flexible fluted panels can be bent for special wall designs.

One-stop shopping wood wall panels supplier from China. Providing you wood veneer wall panels, PVC wall panels, wood slats wall panels, or metal wall panels.

Competitive rate shipping of fluted wood panels by sea, by air, by FedEx/DHL/TNT.
Frequently Asked Questions (FAQs)
Q1.  What is fluted wall panel?
A1.  The fluted wall panel is a decorative wood or bamboo panel, WPC panel, or metal panel. The panels have different grooves on the surface.
Q2.  How many types of fluted wood panel?
A2.  As we know, there are about 4 main types of fluted wood panels now. Wood veneer or PVC wrapped fluted wall panel, Wood slat acoustic wall panel, CNC milled wood wall panel, and Fluted bamboo wall panel.
Q3.  What are the benefits of fluted panels?
A3.  Fluted panels give a unique visual texture to walls. Sound-absorbing properties due to the grooves and ridges. Easy to clean and maintain. Fluted panels can be customized in the designs of grooves.
Q4.  Are fluted panels easy to clean?
A4.  Ideally, the PVC wrapped fluted panel is easy to clean. Avoid using excessive water or soaking the panels, as this can cause damage.
Q5.  What are fluted wall panels made of?
A5.  Usually, fluted wall panels can be made of solid wood, MDF, plywood, bamboo, WPC, stainless steel, aluminum, etc.
Q6.  What is the size of a fluted panel?
A6.  Frankly, different manufacturers have different designs of fluted panels. I suggest that you can choose the right one for your projects. And you can also place a customized order for special requests.
Q7.  Where to buy fluted wood panels?
A7.  Usually, it is easy for you to find distributors from your local markets. However, you can also consider buying it from China in huge quantities.