Reconstituted veneer, also known as engineered veneer, recon veneer, composite veneer, artificial veneer, precomposed veneer, or man-made wood veneer.
All those are the variant names of the reconstituted veneers.
Reconstituted veneer plays an important role in furniture making, veneer door manufacturing, and interior decoration.
Buying it for your woodworking and business will reduce your costs and avoid many problems.
If you want to buy the reconstituted veneer but aren't sure how to start, this guide will be helpful.
It includes all the basic information you need to get started. And reconstituted veneer's benefits, features, production process, types, and problems, etc.
What is the reconstituted veneer?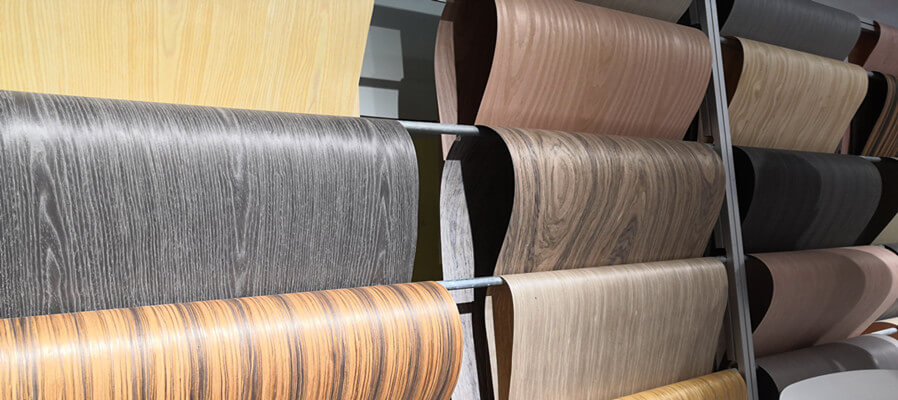 Before we talk about anything about reconstituted veneer.
You have to know what exactly meaning it is.
Let`s start with the history of reconstituted veneers.
In about 1970s, Italian wood products companies developed a more complicated process to produce man-made wood veneers.
They use Poplar and Obeche/Ayous wood species to manufacture a kind of dyed veneers products.
At first, the logs are rotary cut to thin veneer sheets, then bleached and dyed to the desired colors.
With the glue and press machine, the dyed veneer sheets laminated together and form a big reconstituted wood block.
Among the above steps, the mold, slicing method, and the combination of dyed veneer layers will decide the grains.
Finally, the large size reconstituted wood veneer sheets are sliced from those big woodblocks.
During those years, reconstituted veneer research and development happened in the UK, Italy, Japan, and China.
The famous brand includes Alpi, Ipir from Italy, Vicwood from China.
With the development of veneer dyeing and bionic design technology.
More and more new types of reconstituted veneers look much like common natural wood veneers and exotic rare wood veneers.
Besides, designers make many specialty and exotic veneers according to their creative designs.
Benefits of reconstituted veneers
When you consider reconstituted veneer, you must have your reasons.
Maybe you want to improve product sales, or maybe you want to have more decoration materials options.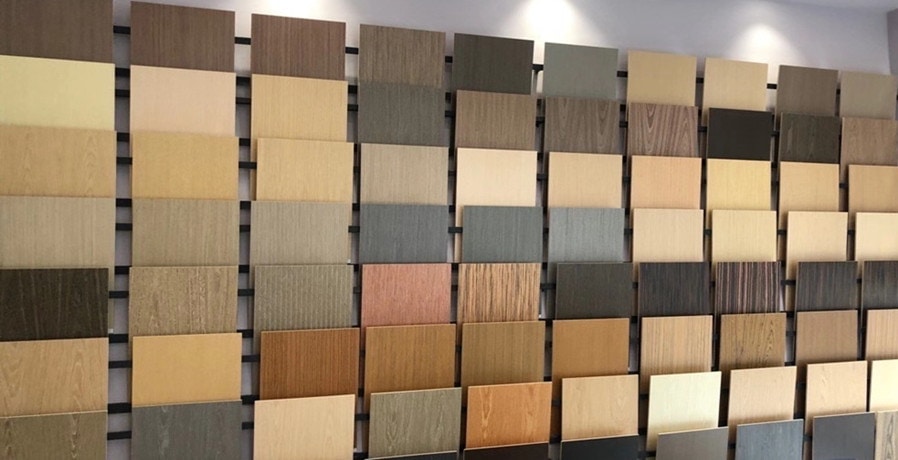 Whatever, the reconstituted veneers play a very important role in modern interior decoration.
There are a few reasons to let you know why people like to use reconstituted veneers for furniture, door, wallcovering decoration.
1.  Better physical-mechanical function
The recombination of raw wood veneers gives a better structure for the reconstituted veneers.
So that has no defects as natural wood veneer.
Such as knots, discoloration, wrinkled wood veneer sheets problems.
It is easy to make plywood or MDF veneering for veneer furniture or interior veneer doors.
2.  2ft x 8ft or 4ft x 8ft sheet size
Max Length 3400mm per sheet.
Max Width 1260mm per sheet.
It can be sliced from 0.15mm to 2.5mm thick veneer.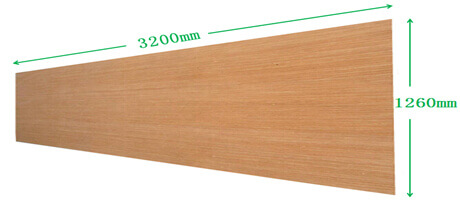 You can imagine how simple to use it compared to the narrow real natural veneers.
You do not need to cut and splice every different bundle, like natural veneers.
And you also have no waste of materials. You can use almost every part of the materials.
We can produce reconstituted veneer sheets or rolls at your request.
With the new ultra-wide finger joint veneer machine, you can get joint Max 640mm width wood veneers to any length.
3.  Environmentally friendly
Over the years, the R&D input on the environment-friendly glue and dyestuff gives us an amazing result.
That makes the best grade of recon veneers can reach E0 formaldehyde emission ratings.
Even the common standard veneers, which also reach E1 grade.
4.  Consistent color and grain from sheet to sheet
As we all know, there is too much variation of grains and colors for natural wood veneers.
So that you have to cut a few bundles of veneer sheets to get the consistent linear grain and color.
But the reconstituted veneers are good at the consistent wood grains and colors.
Every sheet of recon veneer keeps the consistent color and grain.
You do not need to cut and matching them, you will have no waste of materials.
Even though bigger joinery projects, need one uniform color, the reconstituted veneer is your best option.
5.  Available in a variety of colors and grains
There are a lot of wood species designs available in reconstituted veneers.
As for common standard wood species, you can find white oak, red oak, ash, walnut, gray, teak, zebrawood, cherry, maple, wenge, Sapele, elm, etc.
There are many specialty and exotic veneers designs. Such as reconstituted ebony veneer, rosewood, mahogany, cat`s eye, bird`s eye maple, lacewood, white ice tree, burlwood, end grain veneer, etc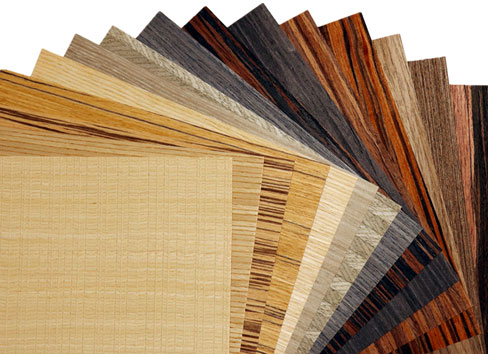 You can find them in our reconstituted veneers catalog.
But the most popular are reconstituted oak veneer, reconstituted walnut veneer, and reconstituted grey veneer.
6.  Efficient utilization of timber resources
By using fast-growing wood species, like Poplar, Ayous, and Basswood.
We can create the looks of almost any common natural wood veneer and exotic veneers.
Such as Ebony, Rosewood, and Burl series.
That means we can save more exotic trees in this way.
We can protect the precious forest all over the world for future generations.
For natural wood veneers, cutting and splicing are necessary when you have different grains and colors of natural wood veneer sheets in the application.
But reconstituted veneers almost have no waste of materials in production processes.
Even in the veneering application, you can use almost every piece of recon veneers.
7.  Higher density ( Saving painting )
This advantage was the feedback from our clients.
Because of the strict quality control in the reconstituted wood blocks production processes and the good quality raw wood veneer sheets we chose.
We produce a higher density wood block always.
So that our sliced recon wood veneers are much smoother than the cheaper one.
Even some natural wood veneers, the surface is not smooth like ours.
Additionally, fleece backed veneer has a better surface evenness than raw veneers. Our clients do not need to sand it when veneering on plywood or MDF.
So that our clients can save more painting by using our high-density reconstituted veneer.
8.  Attractive prices
20%-50% costs of the natural wood veneers.
I think this is the biggest advantage compared to other natural veneers.
All of the clients love the competitive price because it will save much more money and time compared with natural veneers.
Such as natural walnut veneer, the price is about 3.0 USD per square meter.
But for reconstituted walnut veneer, the price is only 2.0 USD per square meter.
Some quarter grain recon walnut veneer has more competitive prices.
When It comes to Rosewood, Ebony, Bird`s eye maple, and other exotic wood species.
Reconstituted wood veneers will be the best alternative options for your joinery works and interior fit-out.
Types of reconstituted veneer
Well, if you are looking for reconstituted wood veneers, you should have realized that they have so many different designs.
What I am trying to tell you is that the market is full of man-made wood veneers now.

So in some instances, that is very difficult for you to choose a suitable type for your woodworking.
In this guide, let me explain how many types of reconstituted veneers are there.
Nowadays, there are about 3 main types of reconstituted veneers.
  1.  4ft x 8ft poplar recon veneer
When we talk about this type of recon veneers, you have to know it`s common names.
Poplar recon veneer, White recon veneer, White poplar veneer, Recon white face veneer, EV poplar face veneer, Red poplar veneer, Red recon veneer, EV red face veneer, Bleached poplar veneer.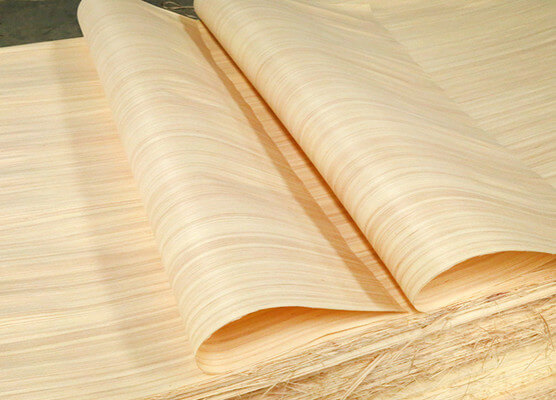 If you heard those above names, that means this type 4ft x 8ft bleached poplar recon veneer.
This is the cheapest recon veneers for the commercial plywood face layer.
The thickness is about 0.2mm to 0.3mm, quarter grains only.
All veneer color is not pure white, it`s bleached yellowish. And recon gurjan, keruing, and Sapele colors are popular in India and Egypt markets.
This type of recon veneers is popular and widely used in Linyi city in China.
This is not fancy recon veneers for decoration of furniture and interiors.
2.  Poplar engineered veneer
If you are not a professional engineered veneer buyer, or you never see the real physical sample of full sheet poplar engineered veneers.
You must be very curious about the prices.
Why this type of engineered veneers cheaper?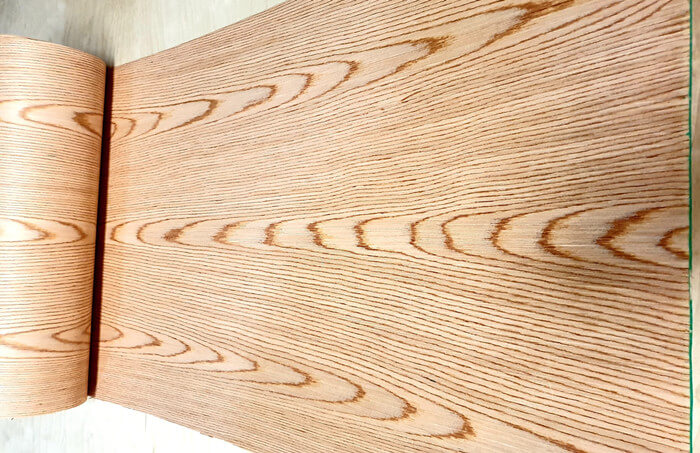 Even sometimes, you can not find the difference between cheaper engineered veneers and expensive veneers.
Absolutely, the raw materials quality, glue, dyeing, density, colors, grains are much different from high end engineered veneers.
Compared with raw veneers of Ayous/Obeche and Basswood, Poplar is one kind of cheaper raw materials.
There are about 3 disadvantages for poplar in engineered veneer productions as below:
●  First, poplar wood veneers have many small knots.
With this, that makes the finished veneers products have many tiny knots.
Those knots have a bad effect on the consistency of wood grains.
Especially crown cut grains zebrawood and ebony veneers, flat cut grains rosewood veneer, and some other light colors crown grains.
●  Second, poplar wood texture hard.
In this instance, a full sheet engineered veneer of Ayous has a better smooth surface than Poplar engineered veneers.
Well, you can see the wrinkled wood veneer surface for the cathedral grain veneer sheets.
●  Third, poplar wood has no noticeable wood pores as Ayous.
In this regard, that makes finished poplar engineered veneers lost the sense of natural wood grains.
Moreover, it lost the beauty of natural wood veneers.
As all we know, Ayous wood`s open pores are the soul of precomposed veneers.
Anyway, poplar wood materials also have advantages:
●  Poplar wood is suitable for fine line grain engineered veneers production.
For instance, light color elm engineered veneer, fine line oak engineered veneer, engineered ash veneer. Silver oak, silver pear precomposed veneer, and grey precomposed veneer designs.
For dark color, wenge engineered veneer, ebony recon veneers,
For the red color, Sapele engineered veneer, anigre engineered veneer, and fine line teak colors.
All the above fine line quarter engineered wood veneer designs can use poplar wood as raw materials.
Poplar wood materials do not affect those grain wood veneer's quality.
The most important is that poplar wood materials save more costs.
●  Poplar wood engineered veneers have competitive prices.
In the reconstituted veneers industry. Almost all manufacturers keep looking for competitive price raw materials.
But, right now, Poplar wood is the first option for competitive prices engineered veneer production.
●  Poplar wood engineered veneers save paintings.
Because of a higher density of wood blocks and lack of clear wood pores.
High-quality Poplar engineered veneers have a fine and smooth surface.
So paintings will not fill the wood pores.
Generally, poplar engineered veneers are much popular in Egypt veneers markets, India markets, and Pakistan wood veneer market.
It is especially popular in Egypt engineered veneer market.
3.  High quality reconstituted veneer
Ordinarily, top quality reconstituted wood veneers are made of Ayous/Obeche or Basswood.
African Ayous/Obeche wood is the first option for reconstituted wood veneer production.

Why Africa ayous/obeche wood is the best fundamental raw veneer material?
First of all, let`s see the characteristics of ayous wood veneers.
●  Ayous wood veneers are yellowish-white to light yellow color.
This light color is good for the bleaching process.
Then bleached ayous/obeche wood veneers are more favorable to desired colors dyeing.
●  There is no clear distinction between sapwood and heartwood
This will make the dyed raw veneer sheet keep the same color from sheet to sheet.
Even for one piece of veneer, the dyed veneer colors will be evenly from heartwood to sapwood.
This is a good result to make the finished whole sheet veneers keep consistent colors from sheet to sheet.
●  Well noticeable wood pores
Well, this may be the soul for a copy of natural wood veneers.
It looks even better up close.
The noticeable wood pores make the reconstituted veneers have beautiful natural wood grains.
●  Ayous wood veneers have a better malleable texture.
No matter crown grains or exotic wood grains, a flexible raw veneer is a big help for manufacturers to forming woodblocks.
Due to the better malleable texture characteristic, engineers can make designer`s wood veneers color and grains come true.
●  Ayous wood logs growing fast.
African Ayous/Obeche wood has a special character, which is growing constantly.
No matter what seasons, Spring, Summer, even in the cold Winter, Ayous/Obeche wood still grows every day.
In other words, African Ayous/Obeche wood gives sustainability raw materials support to the reconstituted veneers industry.
Well, Ayous/Obeche wood gives a brilliant impression of popular reconstituted oak veneer and reconstituted walnut veneers.
Even the reconstituted grey veneer, reconstituted ebony veneer, and reconstituted teak veneer, Ayous/Obeche wood is also the best option for raw materials.
When it comes to Cherry, Maple, or Rosewood color and grains, we need more smooth and delicate raw veneers.
In this instance, we have to choose Basswood as raw materials.
Basswood recon veneers are exquisite.
You can see the shining surface.
When you touch the veneers, you will have an oily feeling.
Those are the special characters of natural rosewood, natural maple, and cherry.
Since 2018, some Chinese reconstituted veneer suppliers start to produce reconstituted veneers by natural red oak wood.
That is very expensive materials compare with Obeche wood.
So the price of this type reconstituted oak veneer is much expensive than other recon oak veneer.
Fortunately, we start the 4×8 foot high end reconstituted veneers production in 2020.
You do not need to splice 2 sheets 2×8 foot veneer sheets to 4×8 ft and then veneering on plywood or MDF.
Now, veneering the high end 4×8 ft size reconstituted veneers on substrate boards directly is easy for you.
How is reconstituted veneer made?
Reconstituted veneer is a defect-free man-made real wood veneer.
Using the fast-growing wood to replicate the natural wood veneer.
With the systematic dyeing, restructure, and mold forming, to replicate natural wood veneers.
Such as oak, walnut, ebony, teak, Zebrano, rosewood, ash, wenge, etc.

Additionally, designers can create exotic wood grains, like burl veneer, grey veneer, cat`s eye veneer, bird`s eye veneer, etc.
Let me explain the reconstituted veneer manufacturing process step by step.
Step 1.  Veneer design
At the beginning of all, we need to design the reconstituted wood veneer sheet specification and colors according to clients` requests.
After that, production engineers will know what size of raw materials is best for production.
And then, we design the raw wood veneers` colors, dyestuff, and veneer dyeing process.
Moreover, mold is also a very important part of the veneers' design steps.
Step 2.  Raw veneer production
Usually, raw veneers standard sheet is in 2600mm length, 670mm width with thickness about 0.65mm to 0.75mm.
Those raw veneer sheets are rotary cut from Poplar logs or Ayous/Obeche logs.
As for some special length reconstituted veneer for interior wood door.
We will cut to 1900mm, 2300mm length raw veneers.
Even some special carpentry and joinery work.
We have to cut 3100mm to 3500mm length Ayous/Obeche veneer sheets to make extended length recon veneers.
Step 3.  Raw veneers drying
The rotary cut veneer sheets can be used for the dyeing process directly.
But if we want to keep some raw veneers as stocks, we have to make drying with wood veneer dryer.
Usually, the moisture content rate should be about 8% to 18%.
To keep good stability of moisture content rate for each part of veneer sheets.
This is a very important factor to decide the bonding strength of reconstituted wood blocks.
Step 4.  Raw veneers grading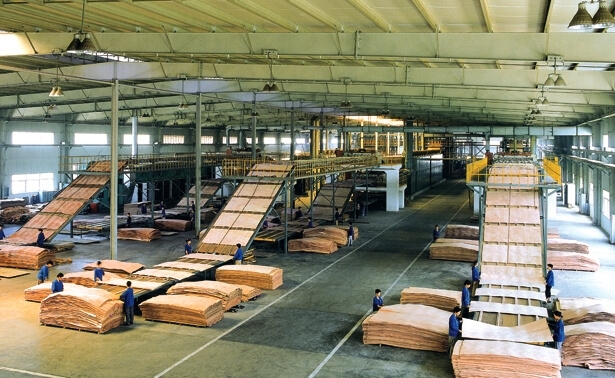 Generally, raw veneer sheets grading includes two parts:
● Sorting by colors
The rotary cut raw veneers are sorted by color light, medium, deep.
In this way, it will be helpful for dyeing uniformly for each sheet of raw veneers.
Moreover, it can save the dyestuff and production costs.
● Sorting by defects
In this regard, defects mean the live knots.
Usually, crown cut grain veneer designs are not allowed to use those defects raw veneers.
But, for quarter grains and fine line grains veneers designs, we can use those veneers.
Because those live knots do not affect the finished veneer quality.
Step 5.  Raw veneer dyeing (include bleaching)
As earlier mentioned, the sorted raw veneer sheets will be bleached first, then dyeing to the desired colors.
In this step, the quality of dyestuff will affect the color fastness of reconstituted veneers.
We had a consult in 2018 from Dubai, one joinery and fit-out company buy recon veneers from Dubai veneer suppliers.
Those grey recon veneers discolor after few weeks.
So their interior wood door and door frames have different colors even buy the same reconstituted veneers.
But in Australia wood veneer markets, most of the buyers request the reconstituted veneer with high color fastness.
Step 6.  Dyed veneer drying
The dyed veneer sheets are wet.
So we need to dry the dyed veneer sheets by veneer dryer.
This is one of the most important processes in reconstituted veneer production.
We have to control the moisture content rate of veneer sheets from 6% to 16%.
In fact, the different adhesive has a different request for the moisture content rate of veneer sheets.
A suitable moisture content rate will make a better bond strength of reconstituted wood blocks.
Step 7.  Dyed veneer repair
In simple words, dyed veneer repair is going to cut the defects on dyed veneer sheets.
Such as open knots, decayed knots, worm holes, discoloration, etc.
The workers cut those defects on each leaf of dyed veneers.
Listen, just cutting is not enough to have perfect raw materials.
The professional workers have to control the cut bevel edge.
Step 8.  Apply the glue on dyed veneer sheets
With the wood veneer glue spreader, apply the adhesive evenly over the dyed veneer sheets.
Remember, this step is the main process in reconstituted veneer production.
The ingredients of the adhesive, gram weight of glue, glue spreading evenly, and temperature.
Those are the 4 most important parts of the wood veneer glue spreading process.
If there are problems in this step, the finished wood blocks will be not suited for veneer slicing.
If so, the finished reconstituted veneer will be unqualified.
There will be many split problems if glue spreading control badly.
Step 9.  Mould press forming
Put the glued veneer sheets into the mould, then press it to form a big wood block.
Those big wood blocks have a higher density.
A few days later, we will cut those wood blocks to cuboid or parallelepiped.
In this instance, the mould decides the sliced veneer grains.
Usually, a professional reconstituted veneer manufacturer will keep many moulds.
Step 10.  Veneer Slicing
In this step, you can see the veneer sheets are sliced from those cuboid or parallelepiped wood blocks.
An experienced worker can control the slicing machine and slicing knife very well.
With this, it can protect the slicing machine and avert the knife marks on the veneer surface.
Step 11.  Grading
Reconstituted veneer grading act by the split, glue marks, knife marks, discoloration, stain, disappearance, grains, etc.
In worldwide, there is no common standard for reconstituted veneer grade.
So you will see the prices are much different from different recon veneer suppliers.
Even for some low-end wood veneer markets, there is no grading process.
No matter big holes and open splits, the importer takes all the sliced recon veneers.
Step 12.  Packing
The graded veneer sheets will be put on the pallet, then cover with a plastic film bag, then cover with a carton box again.
Finally, cover the top pallet and band with a steel strap.
For some LCL shipping orders, we will cover plywood to 4 sides of the pallet to avoiding the damage during transportation.
Reconstituted veneer in China
Since about 1980s, Vicwood was the first to start the production of reconstituted veneers in China.
They name it engineered wood.
Vicwood sells the engineered veneer to almost all the famous wood door and furniture industry cities.
Even some wood veneer trading companies wait to buy in Vicwood factory.
That is a flourishing time in Chinese wood veneer industry history.
Because of the attractive price and consistent color and grains, the engineered wood becomes more popular day after day.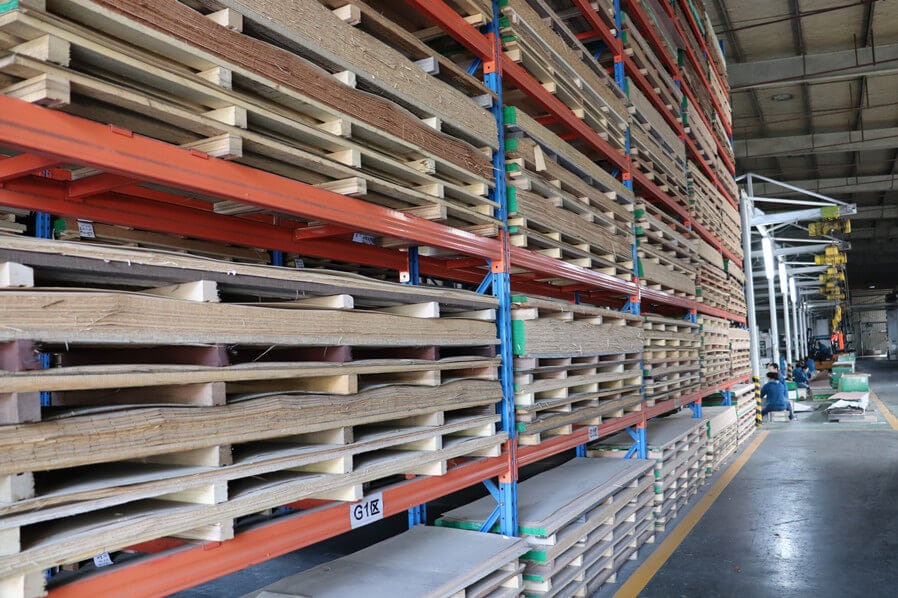 Over the years of development, many companies try to produce the engineered wood veneers in the Province of Shandong, Guangdong, Jiangsu, and Zhejiang.
As you may know, Tubao, Kaiyuan, Yunfeng Moganshan are 3 famous brands in China.
But, because of the flow of technicians, some manufacturers have a thriving business.
However, some factories come down over a period of time.
Until now, there are more than 20 reconstituted veneer manufacturers in China.
Some of them focus on high quality veneers production, some focus on the cheap quality market.
Some manufacturers are good at Ayous and Basswood species, some are good at Poplar recon veneer.
If you want to buy reconstituted veneer from China, I suggest that you have to visit the suppliers.
You can see real factories or companies.
You can communicate and discuss face to face.
No matter big wood veneer manufacturers or small trading companies, you have to work with reliable sales.
Major problems in applying reconstituted veneer and possible solution
In applying reconstituted veneers, you may meet many kinds of problems.
We will make a summary of the problems and solutions.
Maybe it is your first time to use recon veneer, maybe you have work with reconstituted veneers many years.
But the below information will be helpful in your woodworking projects.
1.  Discoloration
Changing colors is the main problem for reconstituted veneers and dyed veneers.
The main reasons are dyestuff quality, dyeing technology, or color fixing agent.
If the reconstituted wood veneers are exposed to the sun, the veneers are easy to change colors.
In simple words, the color fading needs UV protection oil or painting.
But if the reconstituted veneer color change in a few weeks, that is the veneer quality problem.
You need to put UV protection oil as a solution.
2.  Glue 90-110g/m2
What types of glue should I use?
Most people will ask this question when they want to use a reconstituted veneer.
In fact, reconstituted veneers are the same as natural veneers.
You can treat it the same as natural wood veneer or dyed veneer.
If using ureic glues, it is advisable to apply no more than 150 g/m2.
The pressures varying from 1.5 bar to 3 bar.
The veneering temperatures from 80°C to 125°C.
Additives should be added into the glue to adjust its rheological properties and avoid undesirable seepage.
3.  Sanding
When it comes to paper thin veneer, most oversea clients have the doubt about how to sand such thin wood veneer.
Usually, from 0.15mm to 0.3mm thickness wood veneers, we supply with fleece-backed support to avoiding the split.
When we bond wood veneer with fleece, it will need a hot press process.
In this way, the veneer surface is flatness and smooth.
That means you do not need to sand it again after veneering on the substrate.
4.  Splicing
As earlier mentioned, the standard sheet size of the reconstituted veneer is 2500x640mm (2`x8`).
But the standard substrate board size of plywood, MDF, or particle board is 2440x1220mm (4`x8`) or bigger.
So that you have to splice two sheets recon veneers to board size, then make veneering process.
Some beginners are not good at the wood veneer splicing.
In general, thus you can use manually veneer handgluers for small quantities.
For some wood veneer door manufacturers, they use a big quantity of wood veneer sheets.
Generally, they can use Kuper or Fisher Rückle veneer gluing/splicing machine.
We also suggest you can ask the reconstituted veneer suppliers to provide the veneer splicing service.
But the good news is that we can supply full sheet 2500x1250mm reconstituted veneers since October 2020.
That is not a spliced veneer sheet, it is a full sheet 2500x1250mm reconstituted wood veneer sliced from 1250mm width wood blocks.
5.  Split
The split of veneer leaf sheet end or edge is a headache problem.
It is easy to make wood veneer leaf splitting when you carry it.
If so, you have to think about how to repair the splitting veneers.
But we suggest you can buy fleece backed or paper backed veneer sheets.
That means the wood veneer bond with fleece (non-woven fabric) or kraft paper.
In this way, the wood veneer sheet is flexible and durable.
The backed wood veneer sheet has no splitting problem.
Factors to consider when buying reconstituted veneer
We made a summary of 10 points checklist before you buy wood veneers in PDF file.
No matter senior procurement or green hand you are, we suggest that you can read the below details.
Those tips can help you save time choosing the right wood veneers fast.
I think some tips will keep you far away from a bad experience when buying wood veneers from China.
You can also choose a professional and reliable good partner according to this wood veneer buying guide.
 1.  WOOD SPECIES
First of all, you have to know what wood species will you need for your woodworking projects.
If you have no idea about that, you can ask our sales representative for suggestions.
The common wood species include as below:
American wood species: White oak, Red oak, Walnut, Cherry, Ash, Maple, Pine, Rosewood, etc
African wood species: Bubinga, Sapeli, Zebrano, Anigre, Wenge, Teak, Okoume, Ayous, Mahogany
European wood species: Beech, Ash, Oak, Figured Sycamore, Eucalyptus
Asian wood species: Chinese ash, oak, Birch, Basswood, Ebony, Teak, Bamboo
2.  NATURAL VENEER OR RECONSTITUTED VENEER
There are two genera of wood veneers, one is natural wood veneer, another is reconstituted veneer,
which also known as engineered veneer, precomposed veneer.
You need to know what is the best choice for you.
If you have no idea about that, you can ask our sales representative for suggestions.
3.  WOOD VENEER GRAINS
Generally, the veneer slicing methods decide wood veneer grains.
Such as cathedral grain ( plain cut / flat cut), straight-line grain ( quarter cut/rift cut), rotary cut grains, rough-cut grains, cross-cut grains, and other special grains.
You have to know which grains are better for your projects.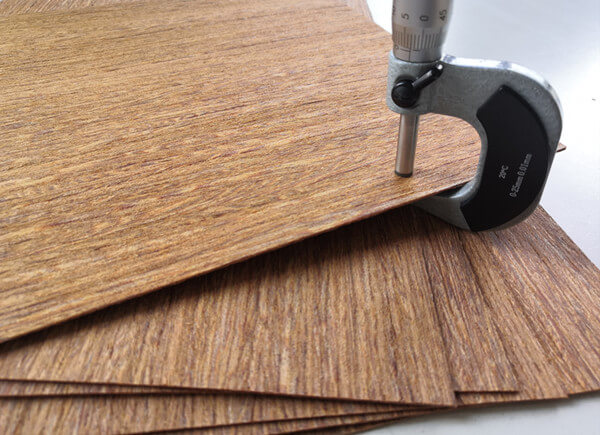 4.  THICKNESS AND TOLERANCE
The wood veneer thickness is one of the main factors that affect prices.
The most common thickness you can find 0.6mm, 0.55mm, 0.5mm from American and European suppliers.
But in China, we can produce much more thin veneers from 0.1mm to 0.6mm.
You have to make clear the tolerance of thickness.
For example, the net thickness of 0.5mm standard veneers in China is only 0.4mm to 0.43mm for natural wood veneers now.
For reconstituted veneer thickness, the thickness tolerance is +/- 0.02mm as standard.
But some of my clients always have problems with thickness when they buy reconstituted wood veneers from China.
Some Chinese reconstituted veneer suppliers send only 0.3mm thickness when clients order 0.5mm thickness.
That is the main reason why some wood veneer importers have a bad experience.
5.   WIDTH
For natural wood veneer, the standard width is a minimum 90mm and up. The crown cut grain veneer leaf width will be 100mm and up, most are 150mm and up.
For reconstituted veneers, the standard width is 640mm and 1250mm.
But all wood veneers can be spliced to large width sheets.
6.  LENGTH
Apparently, there is no standard length for natural wood veneers.
Most of the clients like 2500mm and up, because they need to put on plywood, MDF, or particle board. Besides, some furniture manufacturers need a random length from 1000mm to 3400mm.
Remember, the fixed-length request will increase the costs too much.
As you know, the standard length of reconstituted veneers is 2500mm. But some special projects need the veneer sheet length up to 3 meters and more.
So we provide a service of super ultra 640mm wide veneers finger-joint to a custom length.
7.  QUALITY GRADE
This is also one of the main factors that affect prices.
The quality grade also affects the final projects of surface wood grains' appearance.
Such as knots, figured grains, discoloration, and other defects.
You have to request details for what defects that you can not accept.
Because every natural veneer slicing companies have their own grading standards.
Maybe when you talk about AAA grade, they provide only AA grade.
What you should know, but reconstituted veneer has no so many defects.
So almost all our export quality is top grade.
For the unqualified recon veneer sheets, we will give a big discount for clearance sale.
8.  BACKED
As earlier mentioned, there are two types of backed support materials, kraft paper, and fleece ( non- woven fabric ).
Each type of support material also has several quality grades according to grammage.
You can give the request details to the reconstituted veneer supplier before placing orders.
9.  VENEER MATCHING
You need to know the matching method clearly if you buy spliced veneer sheets.
There are six types of veneer matching, Book matching, Herringbone matching, Slip matching, Diamond matching, Random matching, and Special matching.
Many carpenters use the matched wood veneer layons for decoration of furniture or wall covering.
10.  PRICE
When you request a quotation, some suppliers offer you EXW prices, some offer you FOB prices.
Some offer you CFR/CNF prices, some even quote you DDU prices.
Which price is best for you?
I am afraid that you have to calculate it exactly by yourself, then compare all quotations.
Usually, we do not suggest our clients work with incoterms EXW if they have no very professional and reliable agent/broker in China.
If you have a very professional and reliable forwarder/broker locally, then you can ask all your wood veneers suppliers to quote FOB/CNF prices.
In this way, you do not have to consider the paperwork costs, inland freight costs, or ocean shipping costs.
Conclusion
In 2020, COVID makes it is difficult to travel worldwide.
But we still suggest you should come and visit your suppliers in China.
Hopefully, this buying guide has answered your basic questions about reconstituted veneers.
Right now, you know what reconstituted veneer is, the benefits, how it is done.
And what is the difference between natural veneer and engineered veneer.
You should have understood almost everything you need to buy the wood veneers for your needs.
If you still have questions or advice about this topic, please feel free to contact us anytime, we will be glad to help you.