Marquetry inlay
Marquetry inlay veneer is a real veneer wood art, applying some small pieces of wood veneers, mother of pearl shell paper, or abalone veneer to form the design patterns.
For the marquetry veneer materials, we use natural wood veneer and reconstituted veneer.
For some special designs, we mix the mother of pearl shell paper or abalone veneer.
Generally, dyed veneers and burl wood veneers are the most common inlay veneer materials we choose.
Such as Walnut burl, Maple, Dyed ash, Dyed oak, Mahogany crotch, Tamo ash, etc.
In antique furniture manufacturing, table top and decorative accessories like to use wood veneer inlays.
Designers also like to use inlaid wood art for wall hanging pictures in modern designs.
Marquetry wood veneer mix with the mother of pearl shell or abalone veneer is popular for jewelry box designs.
Marquetry inlay is also popular in the design of the parquet flooring top layer.
6 Main Types of Marquetry Inlay Veneer
Marquetry Veneer Table Top
In the antique marquetry dining tables manufacturing, designers like to use marquetry veneers as a top of the tables.
In addition to the round dining table, marquetry coffee table, and marquetry side tables.
You can see the antique marquetry inlay veneer pattern designs on those tables.
Especially for table top, natural burl veneers inlay match with unique marquetry veneer always popular.
For sure, you should like the sunburst or half-sunburst wood veneer inlays very much.
People like to use light color sunburst veneer inlay marquetry for table top, dark color half-sunburst patterns marquetry for the round side table.
Wall Art Wood Inlays
This is one type of handmade wood inlay artworks.
Applying pieces of wood veneer to form design patterns.
First of all, you have to design a pattern to show your ideas about this wood veneer art.
Then, you have to consider what colors should be used for each piece of veneers.
Except for laser cutting, the rest all is 100% handmade work.
This wood inlay mainly for home decor as wall hanging pictures.  You can find it is applied for the bedroom, drawing room, etc.
If you deal with the wood business, you can design a wood inlay wall art for office wall hanging.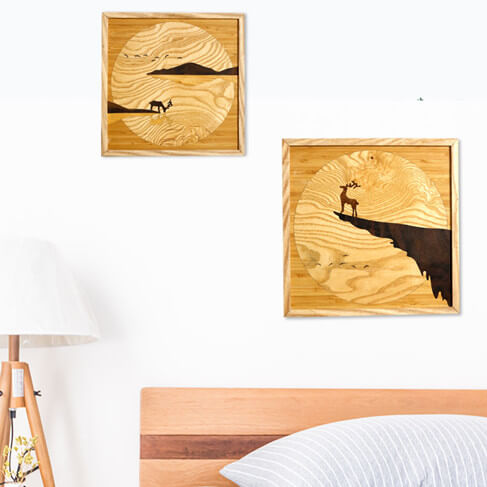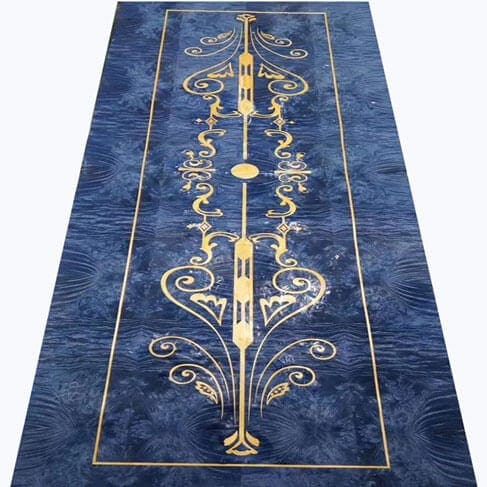 Marquetry Inlay Furniture Decor
As one traditional art wood material, marquetry inlaid veneer sheet is wildly used in antique furniture decoration.
For antique style interior decoration, marquetry inlay burl wood veneer and crotch veneers inlays are the most popular options.
Simple veneer inlay patterns for drawer surface decoration, unique patterns marquetry veneer for cabinet door.
Large size marquetry inlay wood veneer art for wall covering decoration.
Undoubtedly, wood door skin laminated with marquetry wood veneer will give you a whole antique feeling.
Moreover, some simple inlay veneer designs are good for high-end joinery works and interior fit-out.
Veneer + Mother of Pearl Inlay
When it comes to Jewelry Box and Guitar, you have to think about the mother of pearl shell and abalone veneer.
The inlaid mother of pearl and abalone veneer is the best decoration material for Jewelry Box and Guitar.
Wood with mother of pearl inlay keeps the natural beauty on marquetry pearl box.
Mother of pearl inlays gives a glowing look on the wood marquetry patterns.
The mother of pearl inlay is also an exotic marquetry design.
Inlay abalone & mother of pearl shell is also applied for furniture and door skin decoration.
Remember, the mother of pearl shell and abalone shell veneer only about 0.2mm thickness. But we can laminate 2 layers to 0.45mm thickness.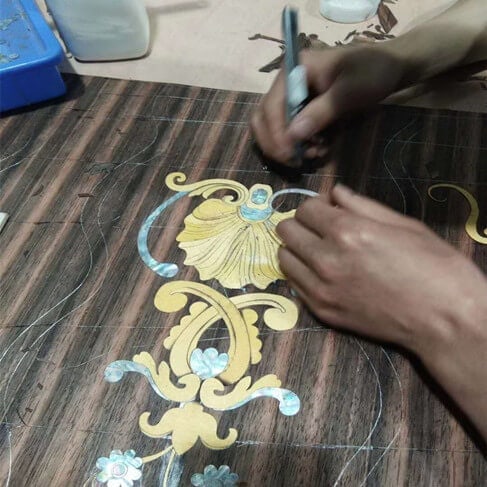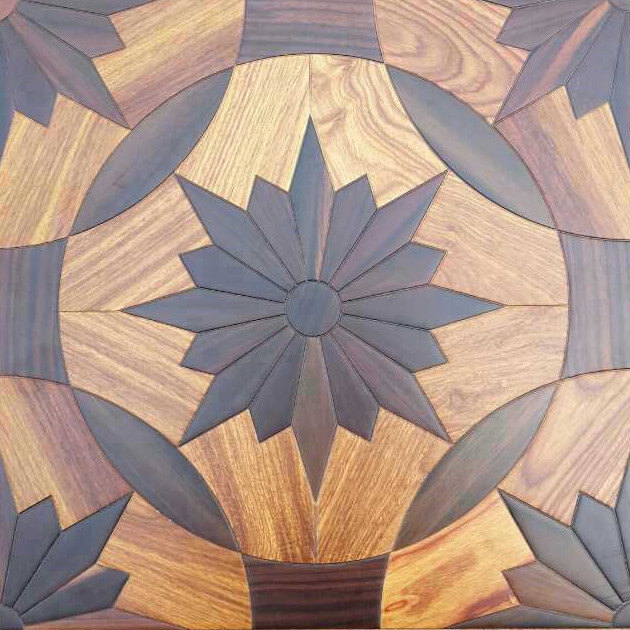 Parquet floor inlay
The parquet floor is a kind of engineered wood flooring with the top layer inlaid in geometric patterns.
No matter inlaid hardwood floor or parquet flooring marquetry, art wood designs are always attractive to clients.
The popular wood species include Oak, Cherry, Walnut, Sapele, and so on.
Compare to the classic herringbone design, flower or sunburst designs, parquet floor inlays give architecture and design more ideas.
Not only simple cutting and matching but also laser cutting special patterns, which makes parquet floor inlays can be any patterns.
If you want to buy inlaid parquet flooring from China, we suggest you can visit Guangzhou and Huzhou suppliers or manufacturers.
Those two cities are famous for parquet engineered wood flooring in China.
Geometric Marquetry Inlay
Geometric marquetry inlay veneers have three main types according to the wood veneer inlay and marquetry method.
>The first type is 100% handmade marquetry inlay veneer sheet with a geometric pattern design.
We cut the veneer into geometric pieces first.  Then edge joint those veneer pieces according to the drawing.
> The second type is the geometric inlay veneer sheet mix with some marquetry patterns.
This type of geometric inlay veneer has the same process as the first. But adding marquetry patterns on it.
> The third type is the sliced geometric inlay veneer sheet
We need to cut the solid wood into small blocks first, then bond them together according to the drawing designs. In this way, we will get a big recombine wood block. Then we slice 0.3mm to 0.6mm thickness veneers from it.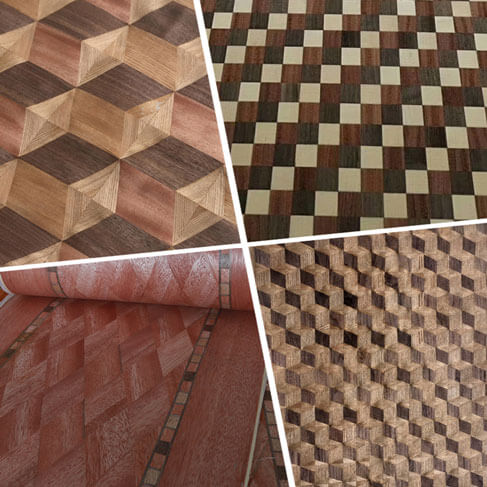 24 Related Marquetry and Inlay Veneer Products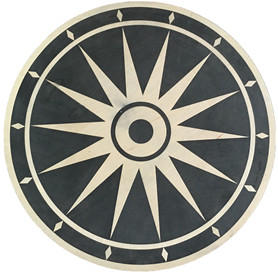 Sunburst Marquetry Table Top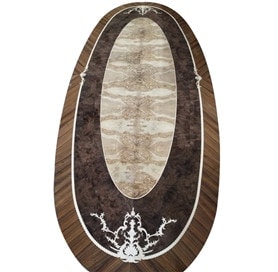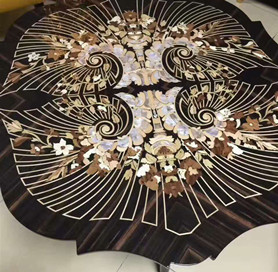 Marquetry Dining Table Top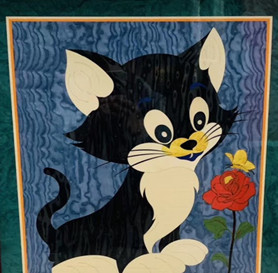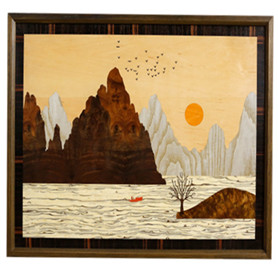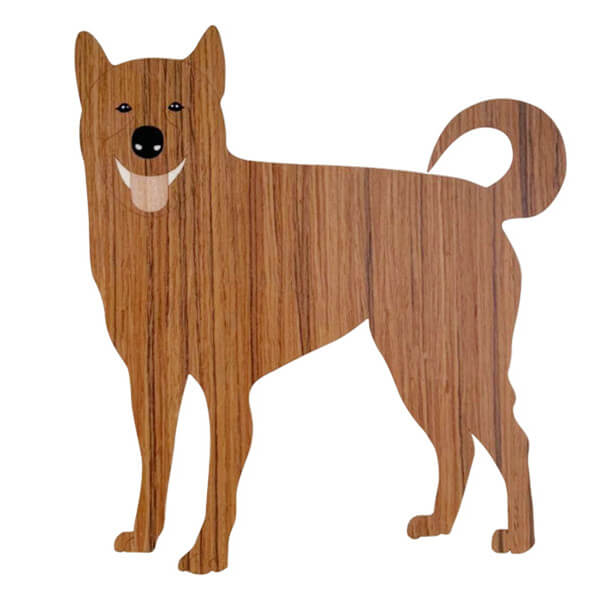 Veneer Inlay Wall Picture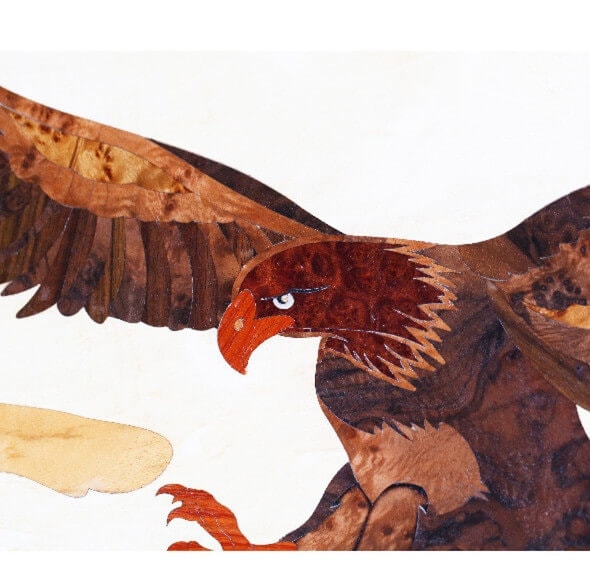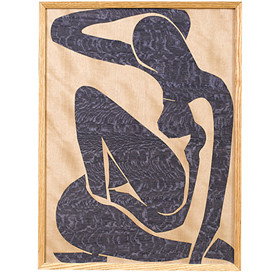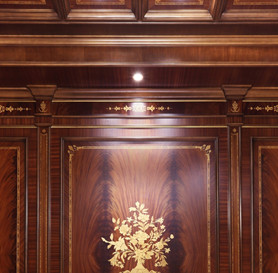 Mahogany Crotch Veneer Inlay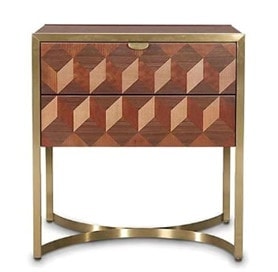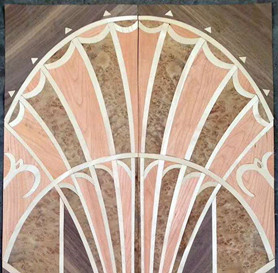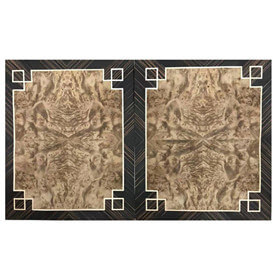 Burl Wood Veneer Marquetry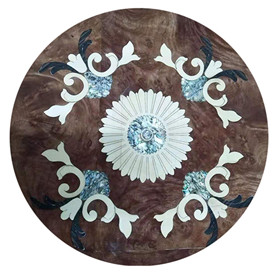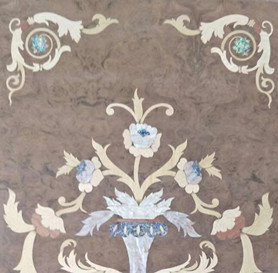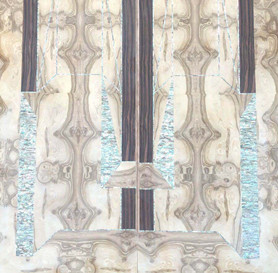 Mother of Pearl Inlay Furniture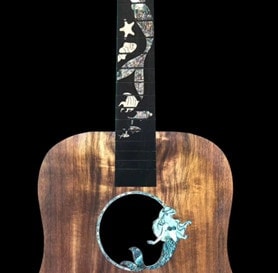 Mother of Pearl Inlay Guitar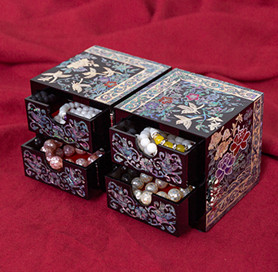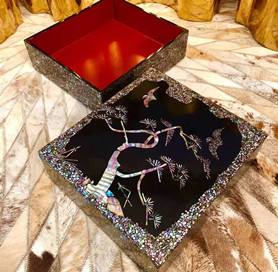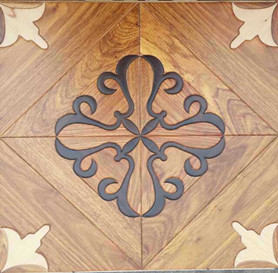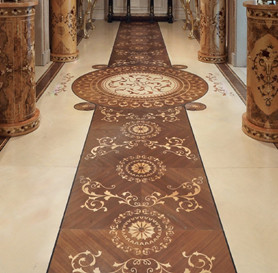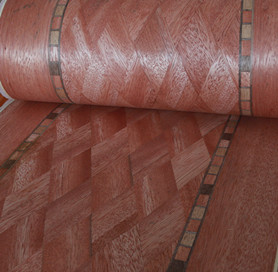 Geometric Marquetry Inlay Veneer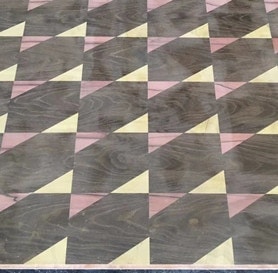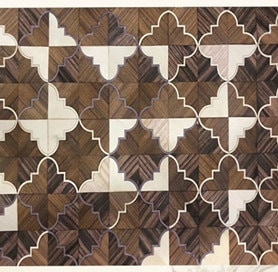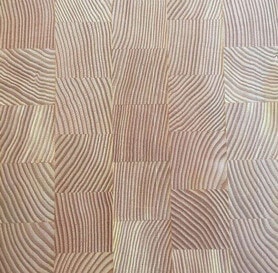 When you think about buying marquetry inlay veneers, I think you must have your own designs.
If not, we can help you to design the pattern and colors of the marquetry veneer or inlay veneer sheets.
For the manufacturers of the wood table, desk, furniture, or jewelry box, inlaid marquetry wood veneers will be the fancy face layer decoration materials.
Not only wood veneer inlay but also the mother of pearl shell and abalone inlay artwork you can find here.
Besides wood marquetry supplies for artwork, you can get inlay veneer sheets and geometric veneer sheets for furniture DIY.
In the antique furniture factories, marquetry inlay veneer plays an important role in surface decoration.
Why Choose Our Marquetry Inlay Veneers
Over 20 years of experience in the marquetry inlay wood veneer business.

Over 120 wood veneer door and veneer furniture factories choose our wood veneer inlay.  For high-end veneer door, furniture, cabinets, and wall background covering.

One-stop shopping wood veneer supplier provides you good quality marquetry veneers with competitive prices. You can buy more than 15 types of wood veneers. Like natural veneer, reconstituted veneer, dyed veneer, bamboo veneer, rough cut veneer, matching veneer, geometric veneer sheet, etc.

Competitive rate shipping of inlaid wood veneer by sea, by air, by FedEx/DHL/TNT.

The most professional fleece and paper-backed veneering supplier in China.