Today, I am going to show you 13 types of amazing American walnut wood veneers.
This will save you time when choosing a suitable walnut veneer.
At the same time, this is almost a complete walnut veneer types checklist on the internet.
So if you want to compare more walnut veneers for your job, you'll love today's comprehensive guide.
Let's get started…
What is the American walnut veneer?

Walnut wood veneer is a thin-sliced sheet from natural walnut wood.
There are plain sliced grain, quarter cut grain, and rough sawn cut grain walnut veneer sheets.
The thickness you can get from thin 0.2mm to 2mm thick as sliced cut black walnut veneer.
Besides, you can get saw-cut walnut veneer sheets from 3mm to 5mm thick for high-end furniture and engineered flooring.
Additionally, there are walnut recon veneers, also known as engineered walnut veneer or man-made walnut veneer.
All of those walnut veneers are pressed onto plywood, MDF, or particleboard to make furniture, door panels, and wall panels decoration.
In this way, it gives the appearance of entire solid walnut wood at lower costs.
How is American walnut wood veneer made?
All the wood veneer sheets are thin-sliced from natural wood logs.
But there are 4 main different wood veneer slicers.
Such as horizontal veneer slicer, half rotary slicer, vertical veneer slicer, veneer rotary peeling.
When it comes to walnut veneer, the main cutting methods are horizontal veneer slicer, half rotary slicer, and vertical veneer slicer.
Each different cutting makes different types of walnut veneer sheets.
1.  Horizontal veneer slicer
The horizontal veneer slicer is mainly applied for thin walnut veneer sheets.
So that if you need a thin walnut veneer of 0.2mm, the veneer slicing factory has to use this machine.
However, Italy Angelo Cremona horizontal slicer is used to cut 0.5mm and thick reconstituted veneer sheets.
2.  Half rotary slicer
If you want a big wide flat cut grain veneer, half rotary slicing is a better option of slicing.
3.  Vertical veneer slicer
The vertical slicer machine is applied for flat-cut grain wood veneer sheets. And the sliced veneers will be thick than 0.4mm.
Even some 1mm and 2mm thick walnut veneer sheets are available.

Types of American black walnut veneer
In recent years, Walnut wood veneers have been one of the most popular wood veneers in the market.
But, different buyers have very special requests for American walnut veneer quality grade and specifications.
So I am trying to tell you as many black walnut veneers as we know.
In this guide, I will introduce 13 different types of walnut veneer sheets and rolls.
1.   0.5mm natural American walnut veneer
Usually, when we talk about American walnut wood veneer, which means 0.5mm or 0.55mm thick natural walnut veneer sheets.
The crown cut grains or rift cut grains can be sliced according to request.
Most wood veneer companies produce or trade with 0.5mm, 0.55mm, and 0.6mm thickness veneers as standard.
Grading them according to the grains, knots, color variation, open defects, mineral streaks, wrinkles, split, knife marks, cross marks, blue spots, sapwood and so on.
The most important to buy natural walnut veneer is to confirm the quality grade with wood veneer suppliers.
In China's veneer markets, almost every wood veneer slicing factories have their own standard for grading the veneers.
So, when some suppliers quote you the same quality A-grade walnut veneers, the prices will be much different.
If you can go and visit their stocks, you also will see the different A grade black walnut veneers.
Personally, I think this is the best way to buy natural wood veneer from China.
At last, the net thickness of wood veneers is one big problem you should know.
As for walnut, red oak, white oak, ash, Sapele, maple, cherry, rosewood, Zebrano, and teak wood species, the net thickness of 0.5mm veneers is only about 0.42mm more or less in Chinese markets.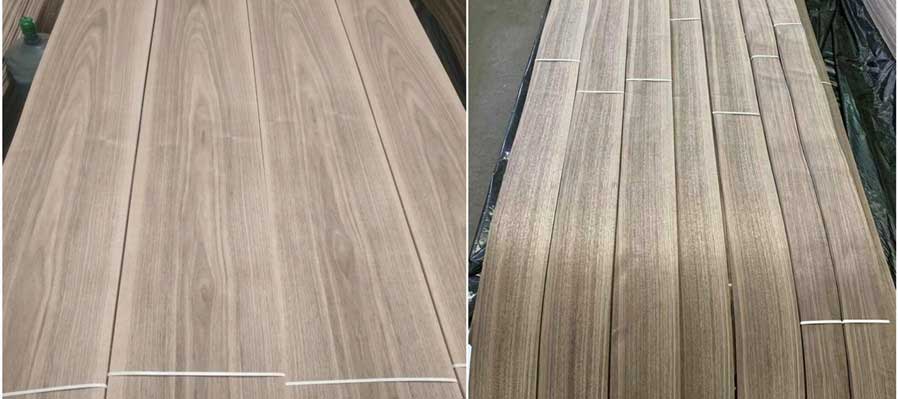 2.   Reconstituted American walnut veneer
Reconstituted walnut veneer is also known as engineered walnut veneer, recon walnut veneer, composite veneer, artificial veneer, precomposed veneer, or man-made walnut veneer.
You can read the blog article The Ultimate Buying Guide for Reconstituted Veneer to understand all about reconstituted veneer.
Reconstituted walnut veneer has a consistent color and grain from sheet to sheet.
You do not need to worry about natural walnut veneer defects and length waste.
You can get a standard crown or rift cut grain recon walnut veneer, and a special half crown and other colors.
Besides, you can order any color and thickness for your woodworking projects.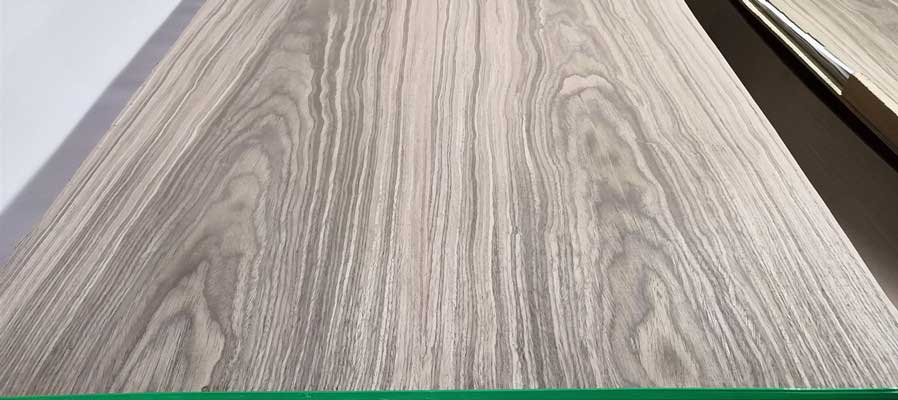 3.   Supper thin walnut veneer
In the production of walnut veneered panels.
Most Chinese factories press 0.15mm or 0.2mm ultra thin walnut veneer sheets on plywood, MDF, chipboard, blockboard.
And many interior wood door factories also use paper thin walnut veneers for door skin.
Many people are looking for paper thin woodgrain veneers for special DIY woodworking, wallpaper, and artwork.
Even some of my clients also use them to apply on the metal surface.
And you have to choose thin walnut veneers for profile wrapping. Because fleece backed thin walnut veneer is durable and flexible.
In conclusion, thin wood veneers increase the operation rate of wood.

4.   Fleece backed walnut veneer
If you want flexible and durable thin walnut veneer sheets, fleece backed walnut veneer is the best option.
Fleece backed walnut veneer can be applied for wrapping profile, door architrave and frame, door skin, and furniture decoration.
And different gsm fleece can make thin dark walnut veneer more durable.
When it comes to saving total materials costs, people like to use fleece backed walnut veneer.
When it comes to conserving our forest resources for future generations, we suggest using the thin black walnut veneer.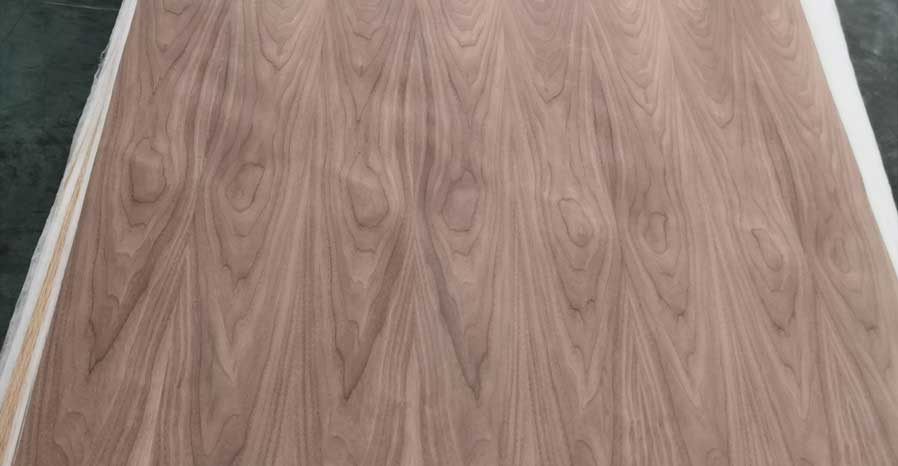 5.   Paper backed walnut veneer
If you want a lower price of panel size walnut veneer sheets, you should think about paper backed walnut veneer.
The paper backed dark walnut veneer sheets can be 2500x610mm or full panel size 2500x1220mm.
But the most important is that it can save more than 60% costs than common 0.5mm thick walnut sheets.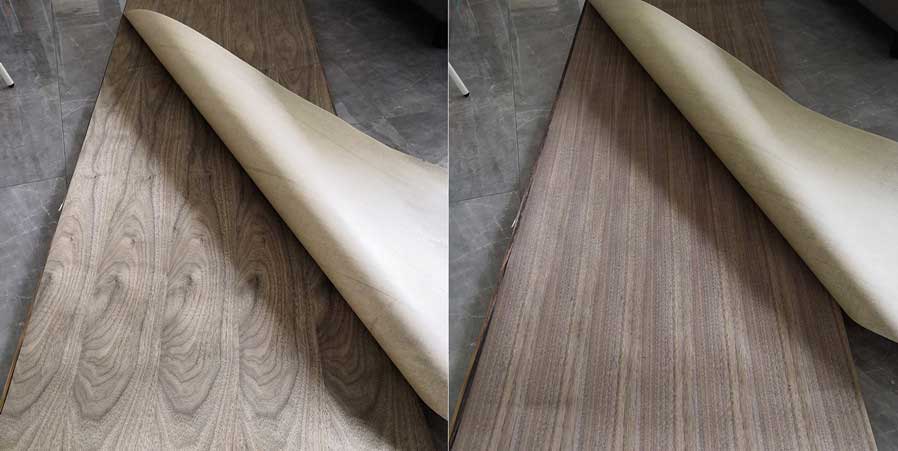 6.   Black walnut veneer rolls
On the production of profile wrapping door frames, architrave.
You will use American walnut wood veneer rolls for wrapping.
Besides, for edge sealing of plywood, wood board, MDF, or particleboard, you will use walnut edge banding veneer rolls.
They are in huge demand in the production of furniture, wood doors, and wardrobes.
We can also supply UV prefinished walnut veneer rolls in top quality at competitive prices from China.

7.   Matched walnut veneer layons
By matching patterns, the natural walnut veneer can be made to various wonderful walnut veneer layons.
You can choose the common book matched walnut veneer, slip matched walnut veneer, cross matched walnut veneer sheets.
For sure, you can also order customized diamond matching walnut veneer layons, and special designs of matching walnut.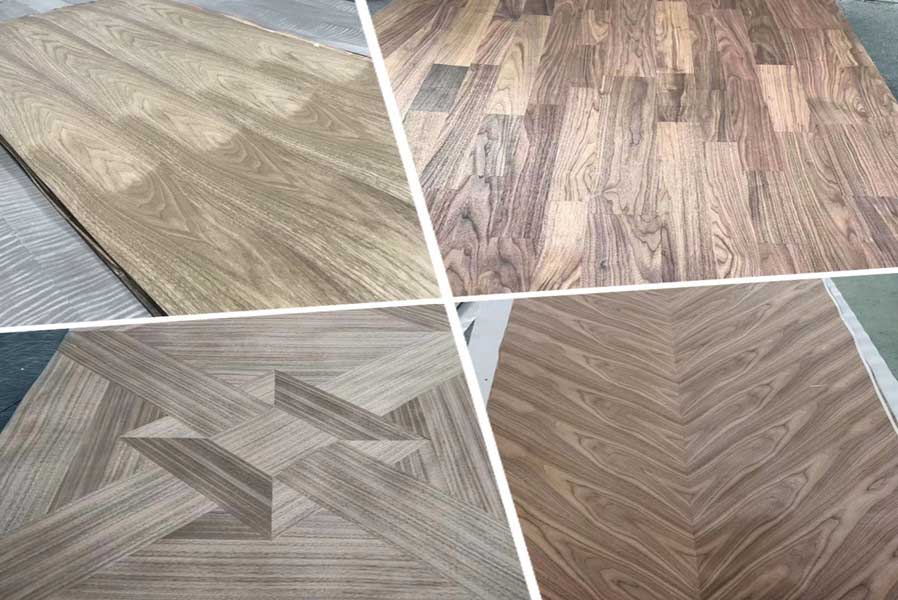 8.   Walnut crotch veneer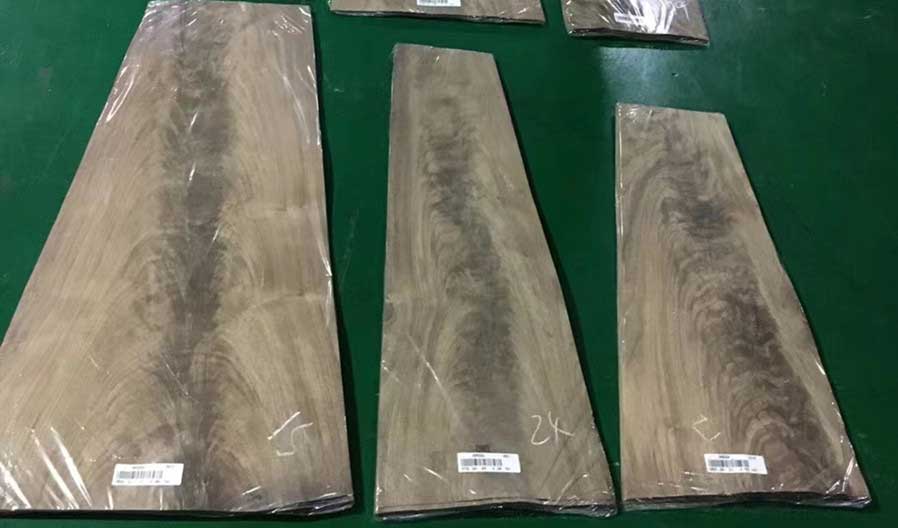 9.  American walnut burl veneer
If you want one dark burl wood veneer, then American walnut burl veneer is the best option.
We can supply 4 different sizes and thicknesses of walnut burl veneers.
The first is 0.2mm thin fleece backed walnut burl veneer pieces, those small pieces are in random lengths and widths.
The second is standard 0.5mm thick American walnut burl veneer pieces, which also in random lengths and widths.
The third is 0.25mm paper backed walnut burl veneer, which in sheet of 2500x610mm and 2500x1250mm for panels size.
The last type is 0.45mm multi-layer Okoume veneer backed walnut burl veneer, the middle layer is non woven fabric.

10.   Rough sawn cut walnut veneer
Rough sawn cut grain walnut veneer became popular in interior designs now.
So, many Natural veneers and Reconstituted veneer manufacturers started the production of rough cut walnut veneer for the new demand.
Usually, you can choose both of Natural walnut veneers and Reconstituted walnut veneer in rough sawn cut grain.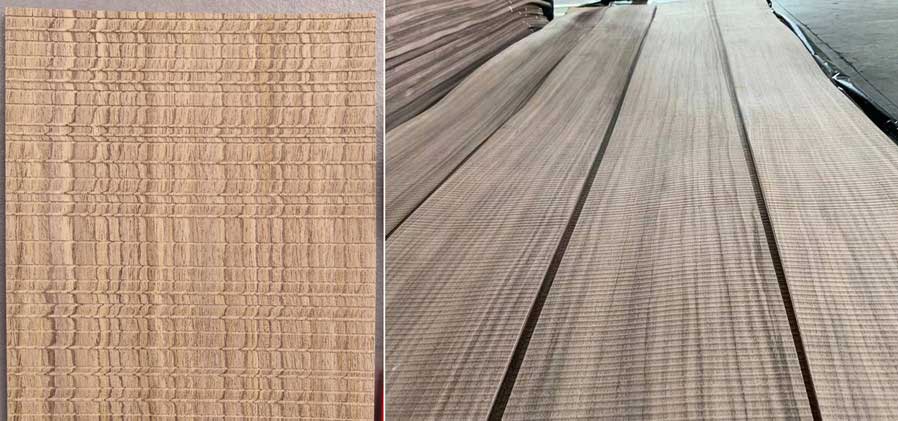 11.   1mm, 2mm, 3mm, 4mm thick walnut veneer
For slice cut walnut veneer, the max thickness is 2mm until now.
For 3mm or 4mm thick walnut veneers, they are saw cut.
Most of the sliced thick walnut veneer sheets are for pressing on plywood or MDF to make top quality furniture panels.
Apart from this application, there is a huge demand for thick veneer as an engineered flooring top layer.

12.   Woven walnut veneer
We can weave patterns by using American walnut veneer strips.
The popular woven walnut veneer thickness can be from 0.5mm to 1mm with fleece backing.
The woven veneer is 100% handwork. And can be customized.

13.   End grain walnut veneer
The end grain walnut veneer is the cross cut walnut round discs.
The thickness is about 0.25mm to 0.3mm with fleece backed, the diameter is from 350mm to 500mm.
You can see the log's growth ring.
All our end grain walnut veneer is a thin slice cut piece from American black walnut logs.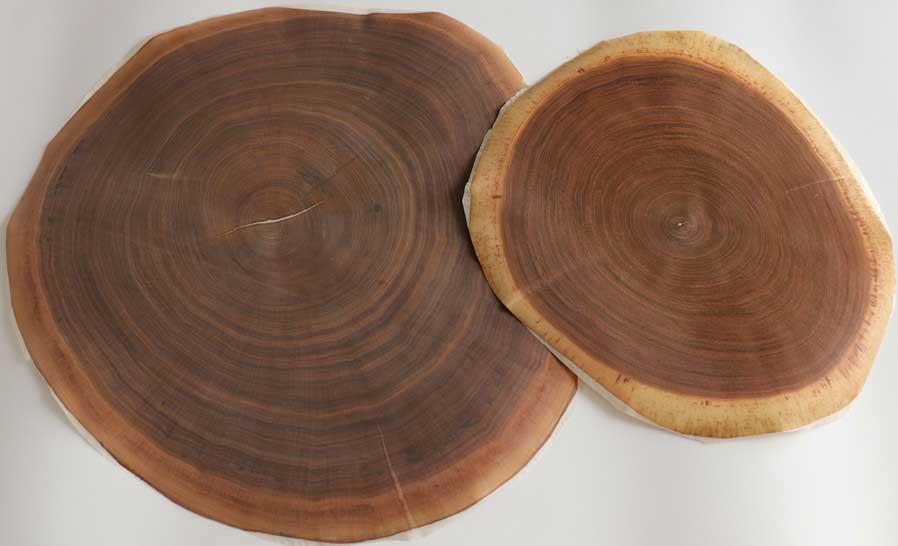 American walnut wood veneer in China
American walnut veneer is one of the best-selling and most famous wood veneers in the Chinese wood veneer market.
No matter wall decoration, cabinet, or flooring, American black walnut is in big quantities demand.
Until now, China still is the biggest walnut logs and lumber importer in the world.
If you visit Chinese wood veneer factories, you will find almost every factory produces a big quantity of walnut and oak veneer.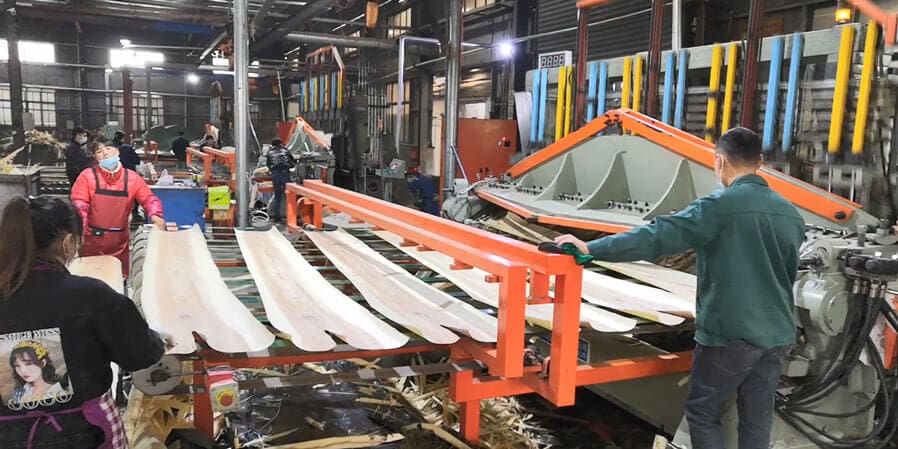 In China, Jiashan is famous for the common walnut veneer with thicknesses of 0.42mm, 1mm, and 2.0mm.
You can also find Burl walnut veneer, walnut crotch veneer sheets, rough sawn cut walnut veneer there.
Besides, Luoshe is famous for 0.25mm thin walnut veneer sheets and rolls.
Luoshe is also famous for all types of walnut wood veneer sheets and rolls.
For example, recon walnut veneer, fleece backed walnut veneer, paper backed walnut veneer, walnut veneer rolls, etc.
Factors to consider when buying walnut veneer
We made a summary of 10 points checklist before you buy wood veneers in a PDF file.
No matter senior procurement or green hand you are, we suggest that you can read the below details.
Those tips can help you save time choosing the right wood veneers fast.
I think some tips will keep you far away from a bad experience when buying wood veneers from China.
You can also choose a professional and reliable partner according to this wood veneer buying guide.
 1.  WALNUT WOOD SPECIES
First of all, you have to know black walnut veneer is original from America.
There is less demand for African walnut and European walnut.
2.  NATURAL WALNUT VENEER OR RECONSTITUTED WALNUT VENEER
There are two genera of walnut wood veneers, one is natural walnut veneer, another is reconstituted walnut veneer.
Recon walnut is also known as engineered walnut veneer or composite walnut veneer.
3.  WALNUT VENEER GRAINS
Generally, the veneer slicing methods decide wood veneer grains.
Such as cathedral grain ( plain cut / flat cut), straight-line grain ( quarter cut / rift cut), rotary cut grains, rough sawn cut grains, cross-cut grains, and other special grains.
You have to know which grains are better for your projects.
4.  THICKNESS AND TOLERANCE
The walnut veneer thickness is one of the two main factors that affect prices.
The most common thickness you can find 0.6mm, 0.55mm, 0.5mm from American and European suppliers.
But in China, we can produce much more thin walnut veneers from 0.2mm to 0.4mm.
Besides, you have to make clear the tolerance of thickness.
For example, the net thickness of 0.5mm standard veneers in China is only 0.4mm to 0.43mm for natural walnut veneer now.
For reconstituted walnut veneer thickness, the thickness tolerance is +/- 0.02mm as standard.
But some of my clients always have problems with thickness when they buy reconstituted walnut veneer from China.
That is the main reason why some wood veneer importers have a bad experience.
5.   WIDTH
For natural walnut veneer sheets, the standard width is a minimum 100mm and up. The crown cut grain veneer leaf width will be 120mm and up, most are 150mm and up.
For reconstituted veneers, the standard width is 640mm and 1250mm, some special designs are 320mm wide.
But all wood veneers can be spliced to large width sheets.
6.  LENGTH
Apparently, there is no standard length for natural wood veneers.
Most of the clients like 2500mm and up, because they need to press on plywood, MDF, or particle board in 4x8ft size.
Besides, some furniture manufacturers need a random length from 1000mm to 3400mm.
As you know, the standard length of reconstituted veneers is 2500mm. But some special projects need the veneer sheet length up to 3100mm.
So we provide a service of super ultra 640mm wide veneers finger-joint to a custom length or rolls.
7.  QUALITY GRADE
This is also another one of the two main factors that affect prices.
The quality grade also affects the final projects of surface walnut wood grains' appearance.
Such as knots, figured grains, sapwood, and other defects.
Every natural walnut veneer slicing companies have their own grading standards.
Maybe when you talk about AAA grade, they provide only AA grade.
But the reconstituted walnut veneer is free of defects.
8.  BACKED
As earlier mentioned, there are two types of backed veneer support materials, kraft paper, and fleece ( non- woven fabric ).
Each type of support material also has several quality grades according to grammage.
You can give the request details to the walnut veneer supplier before placing orders.
9.  VENEER MATCHING
You need to know the matching method if you buy spliced walnut veneer sheets.
There are six types of veneer matching, Book matching, Herringbone matching, Slip matching, Diamond matching, Random matching, and Special matching.
Many carpenters use the matched walnut veneer layons for the decoration of furniture and wall covering.
10.  PRICE
When you request a quotation, some suppliers offer you EXW prices, some offer you FOB prices.
Some offer you CFR/CNF prices, some even quote you DDU prices.
Which price is best for you?
I am afraid that you have to calculate it exactly by yourself, then compare all quotations.
Usually, we do not suggest our clients work with incoterms EXW if they have no very professional and reliable agent/broker in China.
If you have a very professional and reliable forwarder/broker locally, then you can ask all your wood veneer suppliers to quote FOB/CNF prices.
In this way, you do not have to consider the paperwork costs, inland freight costs, or ocean shipping costs.
Conclusion
We suggest you come and visit your suppliers in China.
Hopefully, this buying guide has answered your basic questions about black walnut veneers.
Right now, you know what walnut veneer is, its benefits, and how it is done.
And what is the difference between a natural walnut veneer and an engineered walnut veneer.
You should have understood almost everything you need to buy the walnut veneers for your needs.
If you still have questions or advice about this topic, please feel free to contact us anytime, we will be glad to help you.